Secaucus, NJ – There are six weeks left in the countdown to THE RUG SHOW 2022 taking place in Secaucus, New Jersey on February 16-18. Online registration is encouraged at therugshow.com for the best visitor experience, and to RSVP for the lavish Cocktail Reception to be held on Wednesday evening. The Meadowlands Exposition Center 2022 is a world-class venue strategically located minutes from New York City. This year's roster is expanding with premier brands to showcase some of the industry's most exciting luxury rugs and carpets under one roof.
"There's a certain legacy associated with the Rug Show NY and that is largely a result of Ramin Mobayen's hard work. He did a lot to build the show to a point of being known and respected in the industry," said Anka Tezcan of Wool & Silk Rugs. "It is a staple show for both national and international industry leaders, and we know it is an event a lot of us look forward to every year." 
Like their fellow exhibitors, the Wool & Silk team is looking forward to reconnecting with industry peers in person. "Of course, we are always looking forward to bonding with our friends/customers after so long," added Anka. "We're lucky that we can call our clients our friends, and that's what makes a show in the energetic Metropolitan NYC area so attractive.
The Rug Show presents its next group of exhibitor showcases featuring Wool & Silk Rugs, Anadol Rug Co., and Shalom Brothers, Inc.
WOOL & SILK RUGS
Magic Hour (left), Strawberry Moon, and Red Dawn are part of a greater collection of works from Wool & Silk called the After Hours Collection.
Veteran exhibitors, Wool & Silk give new meaning to 'boutique'. "We are a company of just four people and are a family in every sense of the word. We make all of our decisions together and are constantly working together as a team, where each member brings their own unique vision and skill," says Anka Tezcan. Look for two newly developed textures from this team at The Rug Show: a wool & silk blend and a 100% silk. This new texture has a nubby, organic feeling that adds more dimension and life to the designs as well as a certain element of relatability. After Hours is one of the company's newest collections. A collaboration with a Santa-Fe based artist, it is both wildly artistic and sophisticated. Pieces are inspired by mixed media art that uses modern graffiti imagery, ancient Asian symbols, layering techniques, and other elements. 
ANADOL RUG COMPANY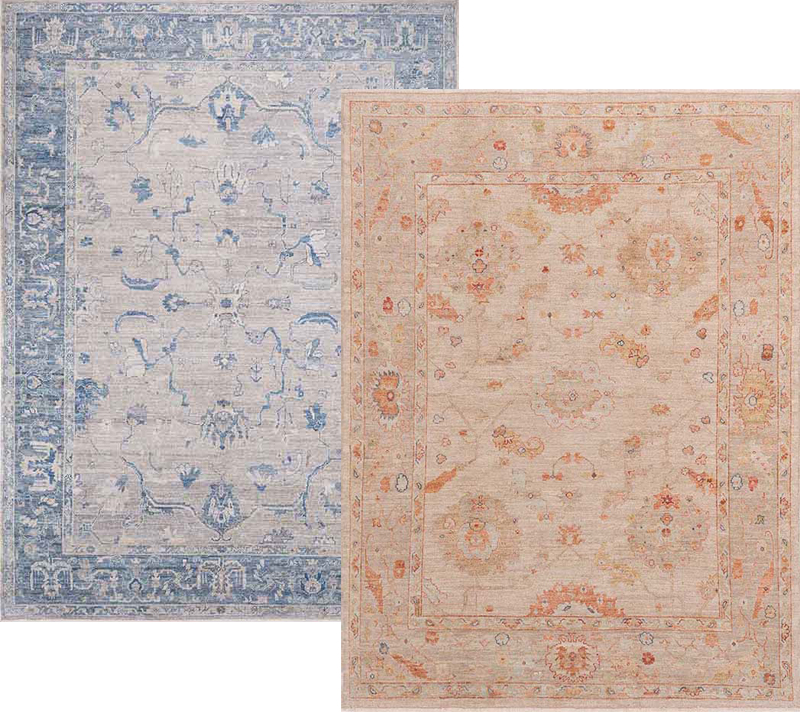 Anadol Rug Co. creates Oushaks similar to those from 600 years ago — with Angora wool sourced from native herdsmen.
Founded in 1984, Anadol Rug Company is the leader in manufacturing genuine antique reproduction Angora Ushaks at its factories in Ushak, Turkey. With roots in the past, Anadol Rugs Co. also has a vision for the future. The company creates rugs similar to those from 600 years ago — with Angora wool sourced from native herdsmen, incorporating organic dyes and handwoven in local villages. Discover this inspiring technique at The Rug Show. "Our goals are to respect tradition, respect the weaver, and provide unparalleled quality to the customer. Our commitment to these goals has guided us over the past 30 years!" says Suat Izmirli. "We welcome exclusive & custom projects." 
SHALOM BROTHERS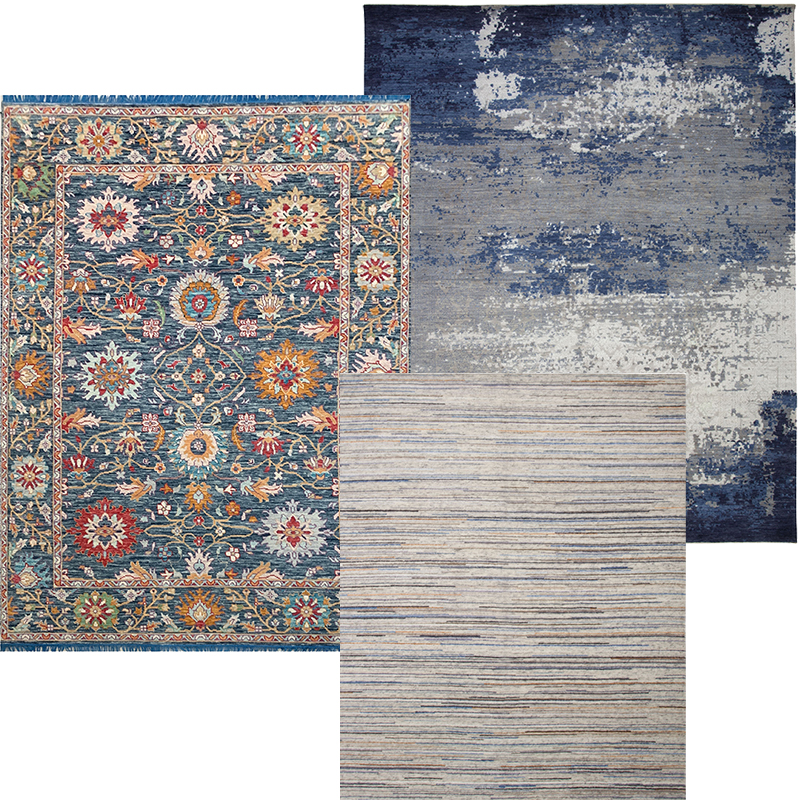 Look for bold innovative design in the latest collections presented by Shalom Brothers.
Headquartered in New York City for more than four decades, Shalom Brothers is a leading importer and manufacturer of fine handmade oriental rugs. The firm's bold and innovative approach in introducing creative designs, brilliant colors, and new textures has created one of the most distinct rug collections worldwide. See why Shalom Brothers' popular, fashion-forward designs are in demand by retailers, furniture stores, and to-the-trade professionals at The Rug Show.
---
The Rug Show will take place February 16 – 18, 2022 at the Meadowlands Exposition Center in Secaucus, NJ.
SHOW HOURS
• Wednesday, February 16 — 9:00 AM to 5:00 PM
• Thursday, February 17 — 9:00 AM to 5:00 PM
• Friday, February 18 — 9:00 AM to 3:00 PM
The Rug Show has negotiated exclusive discount rates during show dates at the Hyatt Place and Courtyard Marriott hotels, both within walking distance of the venue. To access hotel discounts, register to attend, and RSVP for Wednesday evening's cocktail reception, visit therugshow.com.
The Rug Show is a non-profit organization.