Fiber-Shield Industries, a company that makes eco-friendly rug, fabric, and carpet cleaners, is on a mission to change the way we think about cleaning.
Founded by President and Technical Director Manny Vickers and his wife, Connie, in 1979 as Future Living, the company has come a
long way on its journey to become Fiber-Shield. The proof? Manny, a chemist by trade who's extremely hands-on with the company, recently completed his 10,000th experiment. Fiber-Shield's emphasis has been to create environmentally compliant products, and that was its focus from day one.
"Our fabric and carpet soil and stain repellents have been tested independently and do not have perfluorinated materials like PFOS or PFOA or PFAAS that are bad for humans and the environment," Manny says. "We're able to offer the marketplace products that are not found easily."
Manny also saw that most cleaners relied on having solvents to be able to clean oil-based stains, which is why Fiber-Shield took two years to research for the right formula.
FAST-KLEEN is a water-based microcleaner that removes stains quickly and easily—even old stains.
The company's repellents are also state of the art. If you drop liquid onto a carpet from any height, it's going to fall in between the fibers. If the protection is at the tip of the fibers only and falls in between, it's going to stain the unprotected fiber from the sides.
Fiber-Shield's repellents gravitate down and bond to each individual fiber, creating a protective yet breathable seal. Two hydrogen atoms and one oxygen atom create H20, or water, and Fiber-Shield essentially creates a microscopic net that does not allow the bigger water molecules through but will allow air to pass through.
"At Fiber-Shield we do continuous research development, and we have a tremendous amount of laboratory instrumentation to do quality control and quality assurance on our products coming in as raw materials and going out as finished goods," Manny says. "We check everything, regardless of what the manufacturer of the raw materials might say to us, we still want to check to verify that they do meet the specs and high standards that we have set."
FAST-KLEEN benefits carpet cleaner professionals and customers alike. Manny says good carpet cleaners benefit from products that clean quickly, thoroughly, and therefore reduce call-backs. "A real pro wants to solve the customer's problem on the first visit," he says.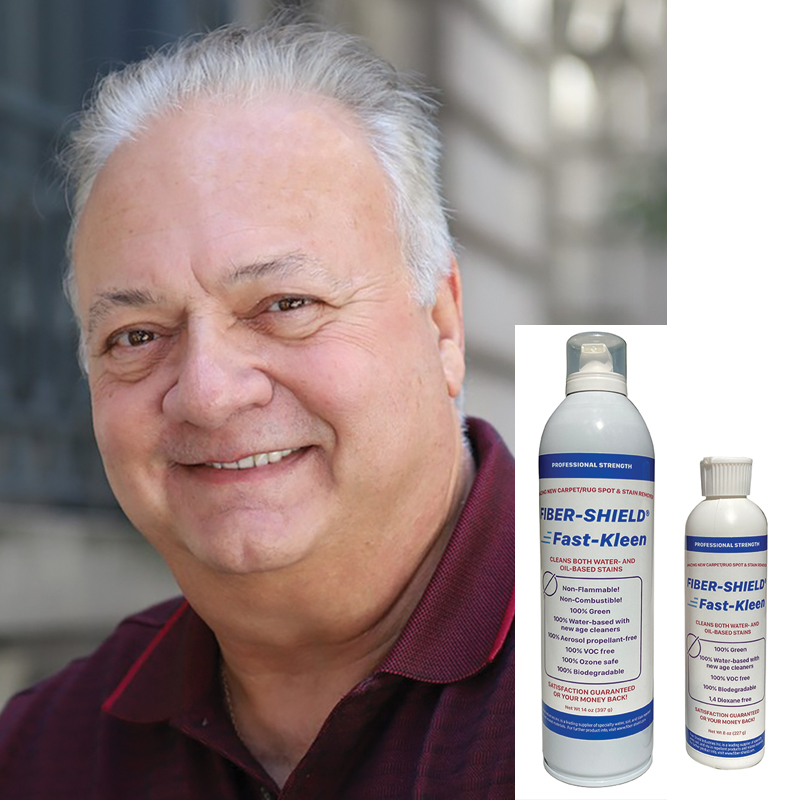 Fiber-Shield President and Technical Director Manny Vickers
And Manny knows this firsthand, as he not only has hands-on experience with applying soil and stain repellents and using cleaners but also with some of the leading cleaning companies in the U.S. and elsewhere in the world.
"The most valuable asset is time, and problem stains could take a carpet cleaner 20-30 minutes to clean," Manny explains. "And he might have to go back. So, if you can shrink that time down to five or six minutes instead of 20-30 minutes and stop the cleaner from having to go back the next day to do the same thing, it's a big deal."
Knowing that Covid was likely going to be bad news in early 2020, the company stocked about $2 million dollars worth of inventory to be able to
provide products on a timely schedule to their customers. They continue to maintain high inventories to this day and ship stock items within
twenty-four to forty-eight hours.
With that momentum, the company is looking forward to an exciting 2022 and plans to announce new cleaning products later this year.