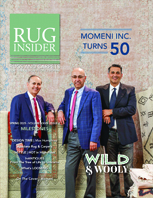 Rug Insider Magazine, (RI), sells print subscriptions to its quarterly trade publication (shipped four times per year).
MAGAZINE SUBSCRIPTION RATES
Current rates are posted on our SUBSCRIPTION page. Rates vary by subscription length, subscriber address (domestic/foreign/overseas), and shipping method. All rates are inclusive of any taxes and shipping costs. 
RENEWAL
Rug Insider print subscriptions do not auto-renew. To renew an existing or expired subscription, visit our SUBSCRIPTION page.
SHIPPING METHOD
All subscriptions are fulfilled via the United States Postal Service. If the USPS alerts us that your magazine is undeliverable, we have no further obligation unless we receive a corrected address within one year. 
USE OF INFORMATION COLLECTED
Refer to
PRIVACY POLICY
.
CUSTOMER SERVICE
For subscription-related questions, contact customer service at:
This email address is being protected from spambots. You need JavaScript enabled to view it.
By phone: 603-279-4938
Rug Insider Magazine • 4 Fortsalong Rd  Meredith, NH 03253