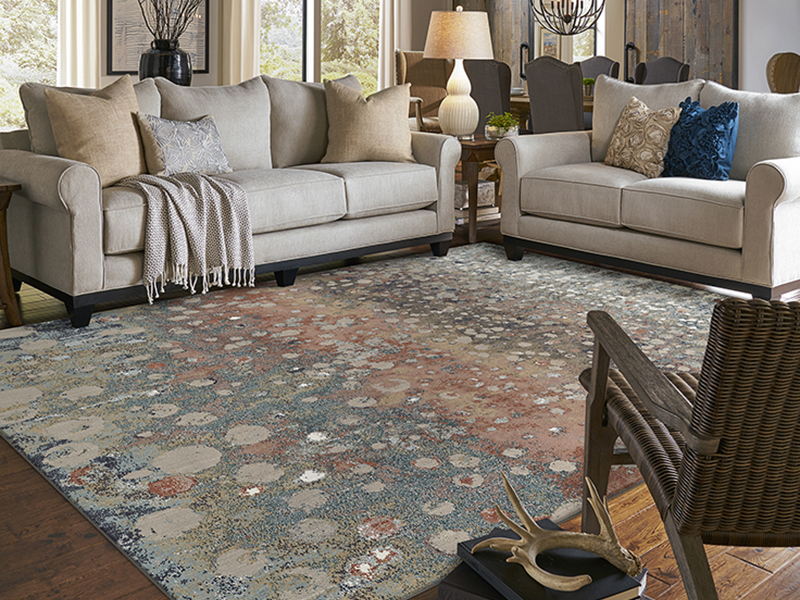 At the 2019 Fall High Point Market, Karastan expands its work in innovative fiber combinations and distinctive fashion colors in three new woven rug collections.
Soiree Collection: A Shimmering Night
Influenced by the glamour of rose gold accents from around the globe, the Soiree Collection combines divine dustings of shimmering rose gold viscose with the velvety soft textures of SmartStrand. The globally inspired patterns, which include Virginia Langley's mystical Nirvana Spice, express a taste for timeless traditional designs and distressed looks. The color palette, however, is totally of today with fashion-forward shades such as mallard green, alabaster and biscotti. Karastan's exclusive SmartStrand yarn is a luxurious and durable choice for these styles. Incredibly soft SmartStrand offers proven performance and easy care with built-in premium lifetime stain and soil resistance that will never wear or wash off.
Tempest Collection: Stirring Up Color
A perfect storm of New Zealand wool and SmartStrand comes together beautifully in the Tempest Collection. Continuing to embody Karastan's fashion legacy, these rugs are elegant, intricate and imaginative. Mixing vivid hues of midnight black, ruby red and cobalt blue with neutral grays and ivories, the patterns in this collection are the next step in color innovation. By marrying the environmentally friendly and strong wool with the luxurious and durable SmartStrand Silk, Karastan achieves a product remarkable in character, performance and style. The sophisticated matte finish of the New Zealand wool is cleverly contrasted with the silky sheen of the SmartStrand Silk fiber. This collection includes three contemporary designs by Virginia Langley.
Tryst Collection: Intricately Detailed Classics and Moderns
Each pattern in the Tryst Collection is intricately detailed and crafted with a new generation of stronger artificial fibers—polyester and viscose yarns. State-of-the-art construction techniques provide a unique texture and softly distressed effect that creates a rich appearance that mimics the look of handmade wool and silk rugs. The collection features both stunning classic Persian designs and breathtaking modern abstracts in earthy blues, rusty reds and a mineral-inspired palette of grays, anthracite and creams.
Las Vegas Market (World Market Center C-312)
High Point Market (H309-IFC, Hamilton, Floor 3)
Published verbatim courtesy of Karastan.