Noted Interior Designer Meredith Heron has been utilizing rugs and carpets in her interiors for years. Yet time and again she's found herself unable to find the right product in stock or from a vendor offering the services and accountability she required. She did what any determined and creative business person would do, she started her own rug company catering to those precise needs and wants.
"So nice to speak with you again," I said as Meredith Heron and I began our conversation on her new rug line, the eponymously named Meredith Heron Collection. "It's been years. When was it last? New York during ICFF?" Pleasantries thus dispensed, Heron turned the table by asking me the first question of this interview, "Where would you like to begin?"
As cliche and trope as it may be, I asked the simplest of questions which netted an astounding seven pages of notes unprompted by any other substantive questioning: "Why rugs?"
Meredith Heron is a successful practicing Interior Designer based out of Toronto, Ontario, Canada. Her work can be seen in fine homes across Canada as well as the United States. Known for her expert, and dare one say, unabashed use of color as well as her love of pattern play, Heron's work exemplifies the notion that hiring an Interior Designer creates the best possible personalized environment for each individual client.
For those with discerning tastes, Heron's understanding of form, function, and authenticity—in its various meanings—translates into carefully crafted spaces commensurate with the station, needs, and wants of the owner. There is a richness in detail and originality that transcends de rigueur, on-trend, and definitely trendy—allowing each project to shine individually.
Back to "Why rugs?" Heron begins "I love to create and have been creating since I was a kid. I'm into big ideas. Rugs, fabric, furniture lines. I've had a store and an in-house furniture line, and through it all I kept finding that I had to make things [or rather have things made] in order to have—that is create—unique interiors. I also learned, especially now, that I cannot be bound by logistics. Technology, social media, and the phone mean I can work anywhere and have work done anywhere." This obviously translates to the rug and carpet industry wherein designers are often based in the West while production occurs in the East.
"If you want to sell something you must illustrate it through lifestyle photography."
"I had considered licensing my name to a rug line, and I've been approached by many to do that, but if you license you hitch yourself to a horse without knowing the unknowns," states Heron. "Licensing has its caveats, most notably the lousy quality [of licensed products] you see at many retailers."
As an outsider to the world of rugs and carpets, Heron first had to educate herself on the form before jumping headlong into launching her own collection which debuts this fall, 2019. "I first met my partner in the rug business about ten years ago. He detailed what could and could not be done and got my feet wet with fibers, construction, and color. I consider my use of color to be expert level, but I still find coloring a rug to be challenging," admits Heron. "He then forced me to learn more about construction before he would entertain assisting me in developing my own collection."
Heron expresses great appreciation toward the makers of her wares, acknowledging that without their work none of her ideas would come to fruition. She also draws parallels between her own education in rugs from those same makers with that of her role as educator of the consumer. "Knowledge is power and we want our customers to have all the information. In my experience most retailers are very helpful, but not that informative. I have a mission to educate customers, give them all the information, and then let them decide."
Throughout the conversation with Heron she stresses that while her interior design work can be decidedly upmarket, her goal for her new rug collection is not to enter into the rarified air nor the fray of the mass market. By asking herself "What is lacking in the market?" Heron balances her aesthetic sensibilities with a degree of pragmatism. "Whether it is rugs or any other luxury product, once the style has moved downmarket, it is dead in its original niche," states Heron. "Oh! Like the now ubiquitous Pollockian or 'paint splatter' style of rug you can see anywhere at any price," I interject.
"I wanted to create, and we have, a collection of rugs targeted toward the upper low to middle market. To strike a balance between luxury and functionality," continues Heron. This "livable luxury" as she calls it is key to her rug collection as well as her broader design rationale. It is also an integral component of understanding emerging consumer demographics such as the oft- maligned millennial consumer. "These are consumers with vastly different value systems than we are accustomed to dealing with. These are people who understand quality, everything handmade, and who are willing to save and wait to make a purchase they intend to keep and enjoy," states Heron.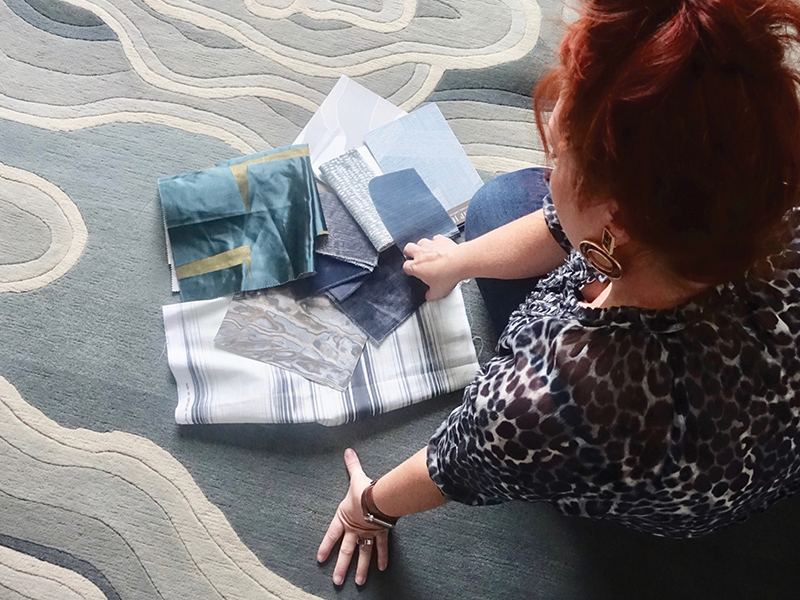 Interior Designer and now carpet designer Meredith Heron of the Meredith Heron Collection poses in the media style of the the time with her new rug "Naoshima" which was inspired by her 2017 trip to Japan.
Millennials are also a group of consumers who have come of age with the ability to research a product thoroughly before purchasing. As such, with what seems to be an erudite understanding of the current and future marketplace, Heron adds that it's not just about being as transparent as practicable. "We project transparency in our design process (matching design to technique and materials) as well as our pricing (breaking it down to a simple per square foot price for consumers), but I also know if you are going to sell something you have to overcome objections."
As a former retailer and a current consumer I understand all too well the objections—genuine, arbitrary, or otherwise—put in place by members of this latter cohort. While the Meredith Heron Collection prides itself on its willingness to learn about and craft good quality, functional, stylish and color-rich rugs and carpets, Heron also knows it's not necessarily the technical details that will initially open the door to sales. "It has to be functional and beautiful," begins Heron who further notes that of the two only beauty photographs well. "We spent a lot of time planning the photography and marketing of the collection. Based on my professional experience we are attempting to make the process [for the client] easy, but more importantly relatable in order to build their confidence."
"For example instead of a Pantone reference number we often put a paint chip reference in our photography, because what customer has a Pantone deck at home?" asks Heron rhetorically. "We might also put an easily relatable object in a photograph, again to provide color reference. If you want to sell something you must illustrate it through lifestyle photography." This is a real world, practical approach which informs all of Heron's work, both interior design and the new rug collection; it's also sound advice for those seeking to adapt to the ever-changing rug marketplace.
"Whether it is rugs or any other luxury product, once the style has moved downmarket, it is dead in its original niche."
As it must in this era, the Meredith Heron Collection offers both bespoke options as well as standard colorways and sizes. Due to the firm's online sales model its consumer pricing is highly competitive, owing to the "removal of some middle-men" as Heron states. Delivery times are aggressive with a target of sixteen weeks.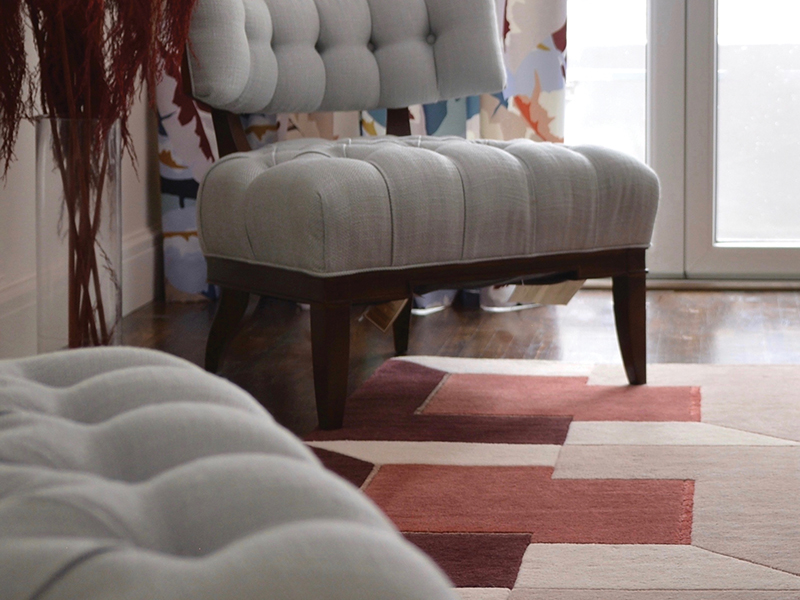 "Ludo" shown in situ. Relatable objects in photographs provide reference to increase purchasing confidence.
Toward the end of our discussion, almost as if on a personal mission, Heron reiterates that the rug industry "rug guys" in her words, must be willing to provide more information to consumers of today; the supposed mystique of oriental rugs is no longer sufficient to propel sales. Informed by her own experience as a consumer of rugs, her new collection seeks to empower consumers. Adding anecdotally that in her relatively limited time selling rugs she's already seen the benefits of providing as much information as the client is willing to digest, Heron shares "I gave the client all the information about our rug and then they tried to do research. This confirmed what we suspected would happen," which is of course that the client was unable to find a truly comparable rug. Emphasizing a need to move beyond the "pithy inspiration bull" that pervades much of modern sales, marketing, and advertising, Heron concludes "Maybe it is backlash to all the political bullshit, but now is the time to be honest."
meredithheroncollection.com
meredithheron.com
Photographs and images courtesy of Meredith Heron Collection