Area rug companies expand and elevate offerings of sustainably-made styles
Recycled plastics-made fibers are not new to the world of area rugs. For a while now, suppliers have been developing and promoting these products to promote not just for their sustainability attributes but also their inherent performance benefits—namely, extra softness and resistance to fading and staining— all of which are highly conducive to today's family- and pet-friendly lifestyles.
What IS new to this category of goods is the increasing relevance and role of area rugs crafted of recycled content and how more and more companies are working to expand their marketability, produce them more efficiently to be able to hit a more affordable price point at retail, and design them in a broader spectrum of colors and designs for more ubiquitous use.
Recognizing—and reveling—in this positive trend is the Sustainable Furnishings Council, which "has noted the encouraging trend in home furnishings manufacturers incorporating more ocean plastics into their product lines," said Scarlette Tapp, the organization's executive director.
She continued: "These polluting single-use plastics are finding new life in beautiful, innovative design pieces. Not only can recycled ocean plastic become durable furnishings, but it can also be spun into yarn. Let's hope this trend continues!"
Joining the recycled plastics fiber-made rug category with a deeper investment is Saddle Brook, NJ-based Nourison Home, which is currently involved in the development of a collection crafted from a yarn system made of recycled materials, and planning its release for later this year. For proprietary reasons, the company did not want to share more details in advance of the collection's launch.
"We feel products made from recycled materials are something we should offer and that the whole industry should be considering for the sake of the environment." GIOVANNI MARRA, NOURISON HOME
"For us, the motive behind this new collection is twofold," explained Giovanni Marra, Nourison Home's vice president of marketing and creative. "We feel products made from recycled materials are something we should offer and that the whole industry should be considering for the sake of the environment; and secondly, the consumer wants access to more of these kinds of products."
While Nourison Home has offered in the past rug styles that contained a smaller percentage of recycled content, this new collection is mostly if not entirely produced from recycled yarn qualities.
"It's a big statement collection for us," Marra noted.
Arriving at the right price point that accommodates more costly production of these particular goods and meets consumers' expectations is "where the work comes in," he added.
Such is the case for most area rug companies vested in the recycled materials business.
"Everyone cares about sustainability today, and everyone loves the story behind our EverStrand rugs because people today expect a certain level of recyclability, especially with polyester," explained Bart Hill, senior vice president of Mohawk Home, which includes the Karastan division. The company operates its own in-house facilities for recycling plastic bottles and waste, and then extrudes yarn from the recycled content to manufacture its proprietary EverStrand branded goods.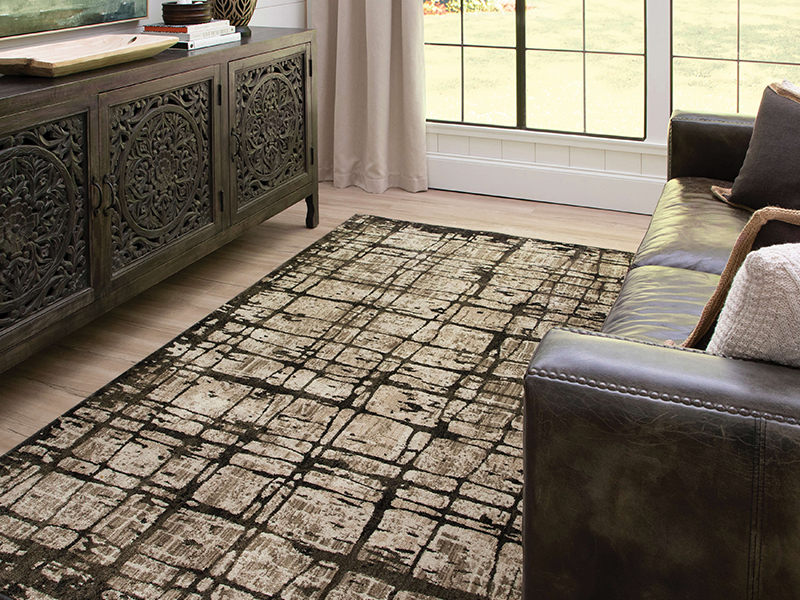 Karastan's Elan in oyster is woven with the company's exclusive ecofriendly EverStrand, a premium polyester yarn created from post-consumer recycled plastic water bottles.
He continued: "The thing is, are people willing to pay more for it? These goods tend to be priced a little higher than the average comparable rug made of virgin fibers."
Value is the key selling point for area rugs made of recycled content, he summed. "Polyester (from recycled materials) is very versatile and it provides many practical benefits. Add to that the sustainability of these rugs and our development to make them user friendly and affordable, and we've got the right equation for the marketplace."
Among the earliest adopters and manufacturers of recycled plastics fiber-made rugs and home furnishings is Edison, NJ-based Fab Habitat. In 2009, Kanan Gupta and her husband, Suchin, launched the company "to produce durable, stylish home accessories that would be good for the home and even better for the planet."
Many of Fab Habitat's products today are biodegradable, or may be upcycled at the end of their lifespan. "We work to keep plastics from going into our oceans and waterways," Gupta said. "And we ensure this through certifications."
The plastic waste the company uses to make its wares is packaged into cubes that are then extruded into fibers that in turn are woven on jacquard machines into Fab Habitat's "beautiful collections of ethical mats and rugs" and other home furnishings.
Additionally, Fab Habitat's line is Goodweave certified, and the company supports the communities where its products are manufactured with several charitable programs.
Fab Habitat sells its goods—which also include home accents and hammocks—directly to consumers via its website and retail partners. And more recently, the company has started expanding its to-the-trade service with more custom options for hospitality, residential and other commercial clients.
"We can do custom orders if there is volume," she noted. "We've worked with condominiums, hotels and residential designers. We hope to build that side of our business as the industry continues to look for products that are transparent. People expect a premium, but not at the expense of the environment. Our mission is to source sustainable products that are of high quality but accessible to consumers."
Like Calhoun, GA-based Mohawk Home, many major area rug players are finding success—some, albeit, at an incremental pace—in the recycled content-made rug category.
Oriental Weavers' (OW) Bauer collection is the company's single current offering made of recycled PET polyester yarn. It spans 10 designs, all power-loomed.
"PET yarn is a highly sustainable material made from recycled plastic bottles," the company noted. "This beautiful yarn has the look of wool but is much less likely to shed and easier to clean. The unique multi-level yarn system and dense pile offer surface interest and a nice tactile quality. And the warm neutral color palette and soft modern designs are a good fit for both rustic and sophisticated spaces."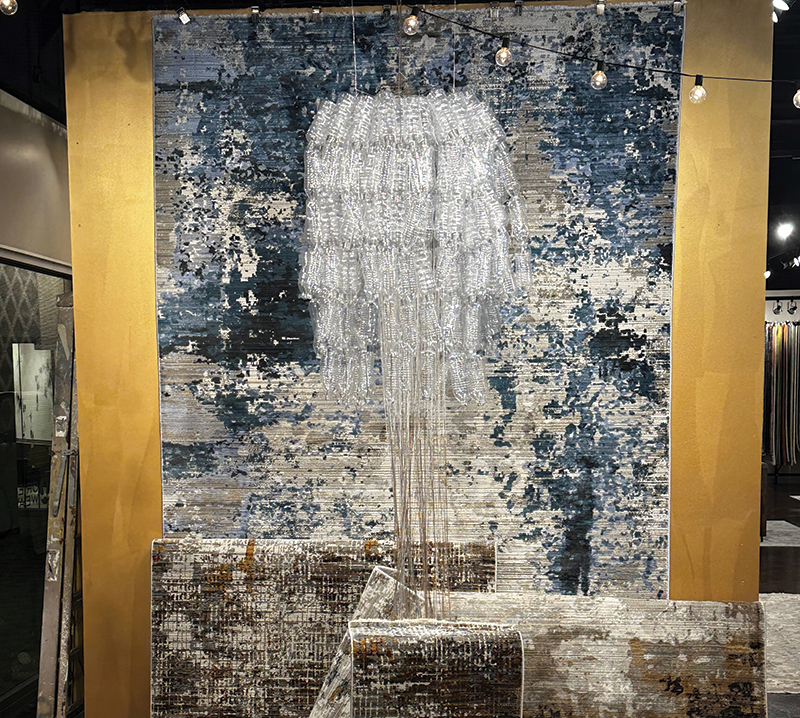 To promote the collection, OW's design team created a chandelier made of recycled bottles (pictured above) to add to a central display of Bauer at the company's Las Vegas showroom in time for Las Vegas Market this past July.
As it expands its broadloom product offering to meet growing customer demand, Kaleen Rugs is integrating recycled plastic fiber-made styles into its assortment. This includes indoor/outdoor performance collection Home & Porch, a grouping of 10 sophisticated designs, all of them handwoven of UV-treated recycled polyester for durability and stain resistance—making them well suited for both high-traffic interiors and stylish living spaces outdoors.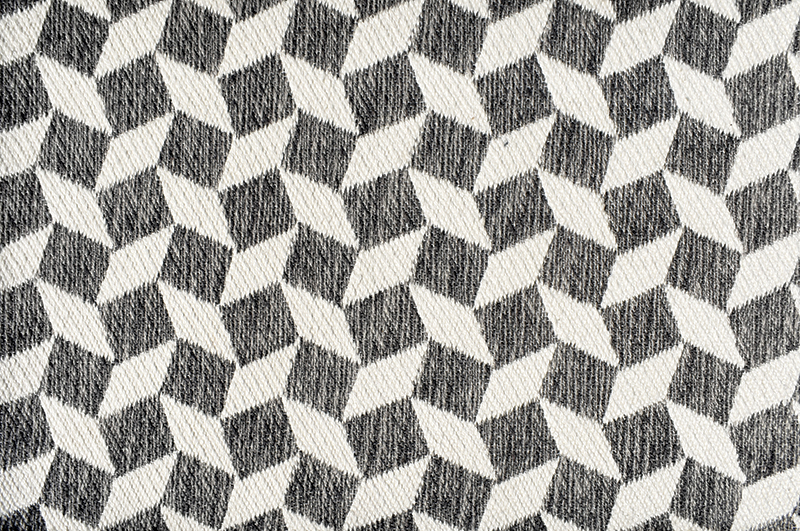 Kaleen's indoor/outdoor performance collection Home & Porch is handwoven of UV-treated recycled polyester. Queens Court design shown above.
Kas Rugs offers a variety of recycled content-made qualities, some examples being: Dune, which is hand-loomed in neutral shades; Chloe, a multi-texture flat weave that is handwoven; and Kauai, which is hand woven and hand spun of a jute and recycled polyester yarn blend.
"We are seeing the call out for eco-friendly and handmade products," said Wendy Reiss, vice president of sales and national accounts. "Perhaps the two can be combined with unbleached or organic wool. We are weighing that for fall intros right now. It is still in development."
Loloi Inc. has been working hard behind the scenes for the past several years to continue improving its sustainability efforts, "and our Sinclair collection, which is part of the Magnolia Home x Loloi Rugs program, is an example of the direction we are heading in," said Austin Craley, vice president of sales.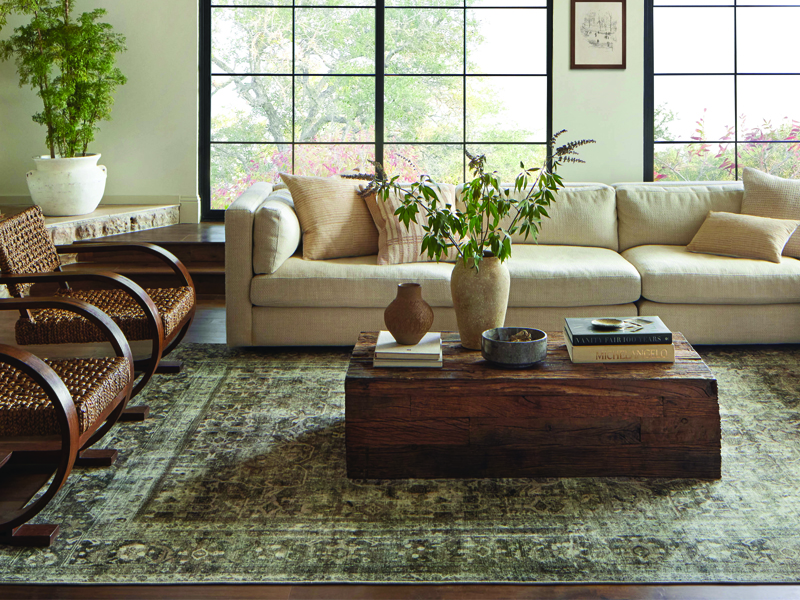 The Sinclair collection, which is part of the Magnolia Home x Loloi Rugs program, is power-loomed of a 100% polyester pile and is machine washable.
He continued: "Since its introduction at the recent April High Point market earlier this year, our current inventory commitments already exceed saving the equivalent of nine million bottles from recycling."
If not for the actual rugs, then for the pads and/or backing systems of rugs and mats. That's the approach some rug companies are taking for now, for varied reasons, with recycled content for their products and production.
Chilewich, a domestic manufacturer of USA-made performance rugs for the upscale consumer segment, designers and hospitality uses post-consumer recycled polyester in the production of its proprietary BioFelt backing system for installed flooring—including rolled goods for wall-to-wall use and floor tiles—for its Contract division.
As for its rugs, not yet. "We have not yet been able to incorporate recycled plastics into our yarns without introducing phthalates, which we do not allow in our products, or compromising on durability, longevity, and performance," CEO John McPhee explained to Rug Insider. "It's a work in progress."
But through recent investments for new equipment and refinements to the BioFelt design, Chilewich recently developed a new version of BioFelt. Slated for introduction in early 2024, it will include more recycled content and more rapidly renewable content than the current version. It will also require less energy to manufacture and result in flooring products that weigh 74% less than our current BioFelt-backed flooring, making it much less resource-intensive to package and ship.
"Preliminary environmental product declaration (EPD) evaluations of the new BioFelt system indicate that the lifetime carbon footprint of our installed flooring products will be reduced by 33% compared to that of our current system," he added.
Similarly, Ruggable—which launched in 2010 and designs and markets stylish machine-washable rugs for its in-house and designer-partner brands—told Rug Insider it seeks to "use recycled materials whenever possible." Currently, its Cushioned Rug Pad is made with over 70% recycled material, and its Classic Rug Pad is made with over 50% recycled materials.
"As part of our ethical eco-friendly ethos, Ruggable has partnered with OneTreePlanted to plant 100,000 trees this year to offset its carbon footprint."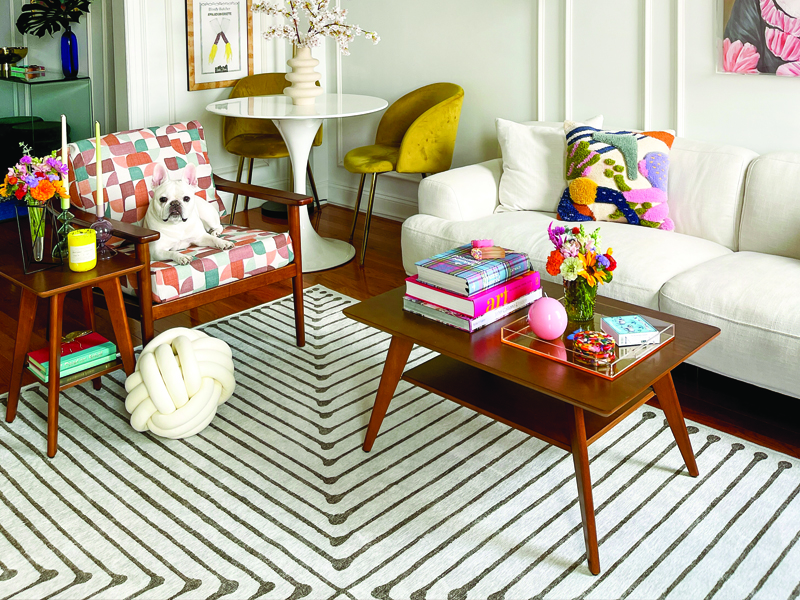 Ruggable's pieces are all machine-washable, stain-resistant, non-slip, and interchangeable due to the two-part system: Rug Pad and Rug Cover. With manufacturing facilities in Los Angeles, Bedford Park, IL, and Charlotte, NC, the company custom-makes each individual rug order. It believes "ethical and eco-friendly manufacturing should be a requirement for all production systems." And as part of this ethos, Ruggable has partnered with OneTreePlanted to plant 100,000 trees this year to offset our carbon footprint "in order to avoid overproduction and waste."
Images courtesy of their respective companies.