When RUG INSIDER first started publication in 1996 the rug market was nearing the end run of a great class of traditionally styled rugs that replicated the look of those familiar Persian designs of Kashan, Isfahan, Kerman, and especially Tabriz to name but a few. Handmade in the Peoples Republic of China the so-called Sino-Persian rugs rose to prominence in the late 1980s as an alternative to their Persian cousins, which were banned by a United States embargo from 1987 to 2000. 
Not only were the carpets available, they were less expensive, and offered an aesthetic whose palettes adapted to the whims of fashion, something the Iranian producers of the time had failed to adequately address.
Atiyeh International was established in 1985 by founders Tom and Leslie Atiyeh in order to pursue production of Persian designed handknotted rugs. Once reticent to produce other designs, the Chinese rug companies and their designers were eventually convinced that many of the Persian motifs originated in China—think cloud bands—and production shifted from the then-popular 90 Line 5/8" Chinese designed rugs that were all the rage in the United States—think cute panda motifs and sculpted Aubussons—to the Sino-Persian style.
"We would still see Sino-Persians in the rug market these days but they are out of production and some existing rugs may have unfashionable colors." according to Tom Atiyeh who continues, "China modernized so quickly in the 1990s they went from employing tens of thousands of workers [as weavers] and then converted to Wilton-loomed machine-made rugs. Once Chinese rug manufacturing companies were privatized, they accelerated cash flow by increasing tufted rug production. This was good for those Chinese companies but bad for importers of handknotted rugs."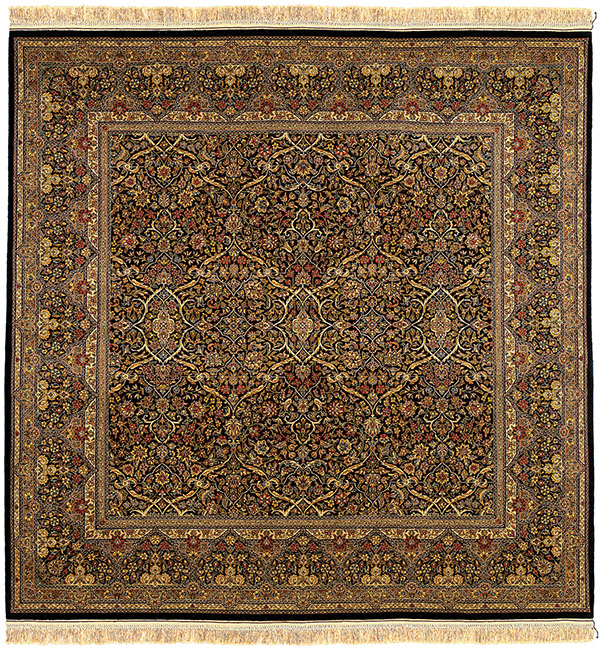 Line Count: Chinese handknotted qualities are described by their line count, that is the number of knots per linear foot, and their pile height. For example, a 160 Line 3/8" pile—the quality Atiyeh produced in Shandong Province under the brand Kerman de Luxe®—has 160 knots per linear foot (30cm) at 3/8" (9.5mm) thick or approximately 177kpsi. Knots are Persian style with a strongly offset warp.
As production declined in China other factors began to influence the rug market of the time. A push toward more modern designs lead by Nepal and an increasing volume and quality of production out of India—including but not limited to designs that once again mimicked the look of Iranian carpets—all but sealed the fate of Chinese handmade production. Though some manufactories still operate today, it is on a boutique or specialty scale, with styles differing greatly from Sino-Persian, and generally offered at a premium price to a niche market.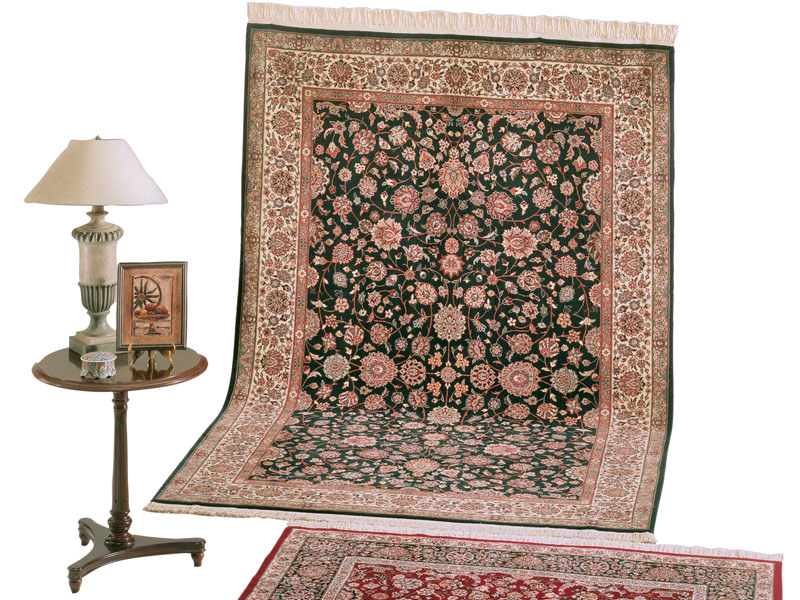 A style from the Past: Not only is the styling of Sino-Persian carpets indicative of their era, but the photography and marketing thereof reflects a different, perhaps less sophisticated style not yet influenced by the ubiquity of the internet and digital photography. Here in this catalog page excerpt from Shalom Brothers (above) you can see examples of Sino-Persian rugs. Witha  resurgence in popularity of more traditional designs, will we see a similar revival of this style of carpet?
Mr. Atiyeh again, "Had China continued to produce high-quality hand-knotted rugs [in volume], I am convinced the United States rug industry and China would have evolved to today's fashion colors and designs."
Images courtesy of Atiyeh International and Shalom Brothers