At its IHFC Green Wing showroom, G-369, Kalaty Rug Corporation is greeting old and new customers with the company's largest-ever High Point new product presentation. Kalaty is prominently showcasing its latest area rug collections in all styles, weaves, constructions and price ranges throughout the showroom's 3,700-square-feet of space.
"We are enjoying a very good year at Kalaty, and High Point has definitely contributed to this success," says Ramin Kalaty, company president. "We celebrated our grand opening return to High Point this past April. And, for the October market, we've chosen to present more new product than we have ever shown at past High Point markets. No doubt, High Point is an essential show for us and all aspects of the home furnishings industry, so we feel this is the ideal time and place for us to showcase the depth and breadth of our product line."
High Point customers will be able to see Kalaty's latest heirloom-quality rug collections as well as new additions to the company's best-selling collections in all style genres, weaves and constructions. This includes traditional, transitional and modern area rug designs and styles in every taste and price category … in fashion colors ranging from cool blues and greys to warm-and-spicy to rich jewel tones as well as soft, calming subtle hues.
Newest collections include:
Kingsley Collection
Updated traditional designs in modern fashion colors, power-loomed in a multi-textural high-low weave using a creative combination of Silkette™ and acrylic yarns. Each of these high-quality rugs is hand bound and hand finished to enhance the look and style-quotient of your décor.
Polaris Collection (K-Two series)
Handcrafted of 100% wool in a thick shag-type of pile, this exuberant collection of delightfully casual modern abstract designs in fun fashion colors is the ideal complement to a variety of today's popular modern furniture styles.
Existing collections with new additions include:
Infinity Collection
Hand knotted using 100% premium hand-spun wool, this eye-catching collection of contemporary abstract rug designs is perfect for anyone that's looking for just the right touch of modern flair.
Harlow Collection
Hand-knotted modern abstract designs made of a combination of premium hand-spun wool and Silkette™ in a fine Turkish knot weave.
Haven Collection
Hand knotted using 100% premium hand-spun wool, a transitional collection featuring high-low variations in pile height and pattern for a plush, soft-focus look and feel.
Oushak Collection
Designs and motifs in keeping with prized antique Oushaks; hand knotted in a Turkish-style weave using 100% premium hand-spun wool in colors that range from traditional classic palettes to updated modern tones for today's tastes and lifestyles.
Soumak Collection
100% premium wool, hand-knotted double-sided flatweave designs that display a unique herringbone texture characteristic of the soumak weave. Inspirations include a variety of updated designs in modern fashion colors plus classic Sultan, Mahal, Nomadic and other tribal-influences.
Capri Collection
Borderless "broken" Oushak designs in popular fashion colors, hand knotted in a Turkish-style weave using a combination of premium wool and Silkette™.
Horizons Collection
Traditional antique-inspired patterns with tonal erased effects and an intricate high-low texture; hand knotted using a combination of premium wool and Silkette™.
Oberoi Collection
Heirloom-quality, borderless updated traditional designs with artisanal erased effects are hand knotted using 100% premium hand-spun wool in updated modern fashion colors.
Equinox Collection
Modern colors and "broken" transitional motifs fuse together in this collection, which is hand knotted in a Tibetan knot weave using a combination of wool and Silkette™. Selected rugs feature the added dimension of intricate hand carving.
Solstice Collection (K-Two Series)
Adding an artistic touch to most any stylish room, these power-loomed designs, made of 100% polypropylene, will elevate the wow-factor of any home.
Modena Collection (K-Two Series)
Designed for use indoors or outdoors, this group of power-loomed eclectic rug designs adds artistic color and pattern to any living space. And, since they're made for indoor/outdoor use, they're as easy to clean as they are to live with.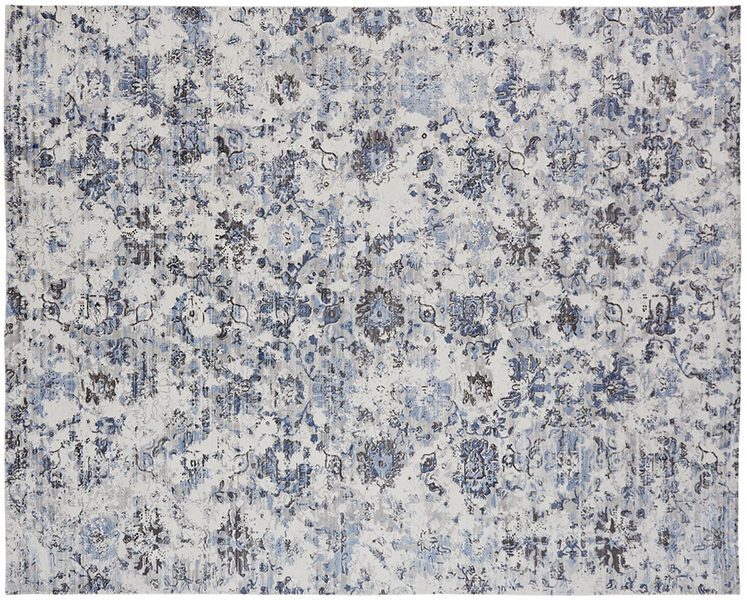 Remy Collection (K-Two series) pictured above
Handcrafted in a Lori-Loom™ weave using 100% Silkette™ yarns, this collection of printed eclectic designs includes contemporary abstract patterns and modern takes on traditional themes with random broken motifs and erased effects.
Theory Collection (K-Two Series) pictured above
Machine made of 100% polypropylene, the high quality plush pile of this eclectic collection of popular designs adds comfort underfoot while providing an artistic anchor for rooms designed around today's trendy, clean-lined furniture styles.

"With 2019 being another year of positive growth for our company on a number of fronts, we have made strides to provide customers with a number of technical updates to the Kalaty website and app, " says company spokesperson Ariel Kalaty. "During this year not only have we celebrated our return to High Point and made improvements to our website and app, but soon we will unveil two colorful catalogs that cover our entire product line."
The Kalaty family Oriental rug business originated more than 100 years ago in Iran under Mirza Kalaty's grandfather, and in 1979 Mirza established the company in the USA. Mirza Kalaty and his five sons – Ramin, Mike, Farshad, Ariel and Kamran – today run the company along with a new generation that recently entered the family business. Kalaty Rug Corporation continues to progress through design, innovative coloring and finishing, as well as through its commitment to provide customers with heirloom-quality area rugs and unparalleled service. Additionally, Kalaty consistently maintains a vast inventory of area rug collections in a wide range of designs, sizes and shapes; plus the company takes pride in offering same-day shipping on most products.
Kalaty showrooms include: New York (295 Fifth Avenue, Suite 508), Atlanta (AmericasMart, 4-G14), Las Vegas (World Market Center, B-455) and High Point (IHFC, G-369).
Published verbatim courtesy of Kalaty.