COVER Connect New York 2023, curated and hosted by COVER magazine, opens Saturday, Sept. 9. The 2023 edition of the annual boutique trade show for high-end rug brands will be held at two neighboring venues in central Manhattan, Metropolitan Pavilion and The Altman Building, Manhattan, NYC. Since the first event in 2021, it has expanded with steady momentum, increasing the breadth of products offered by attracting more top-level dynamic exhibitors.
The show has become a firm favorite on the calendars of buyers, gallerists, retailers, and design studios. The 2023 lineup features forty international rug and carpet companies, demonstrating the most creative, artisan-made weaving on the market today. Expect to discover new collections, the latest designs, and technical developments, plus a huge range of custom rug options, in an intimate and collaborative atmosphere.
The exhibitors have been carefully selected to complement one another and to ensure a wide variety of production and styles will be available, under one roof. All twenty-two of the international brands involved in the 2022 edition are back, plus there are more than fifteen newcomers to the show.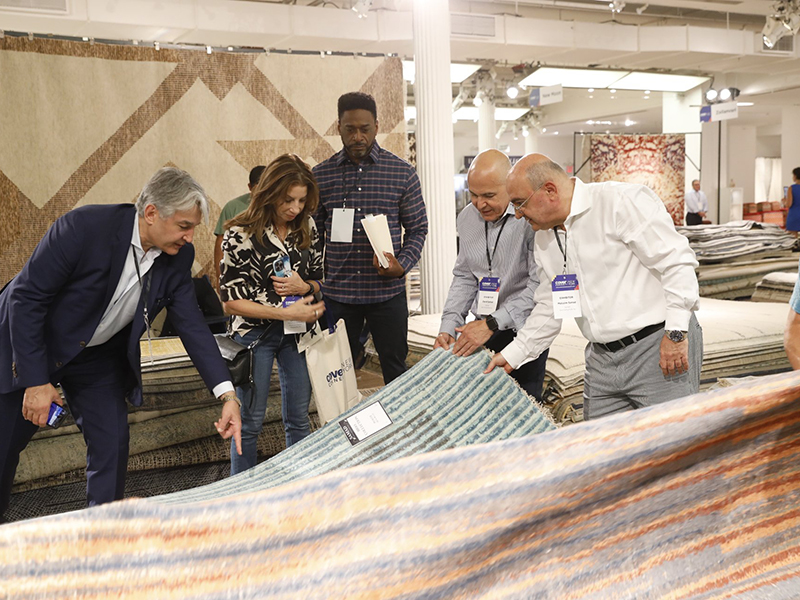 Samad at CCNY 2023 
EXHIBITORS (new for 2023 listed in BOLD)
Anadol Rug Co. – Ariana Rugs – Asha Carpets – Asia Minor Carpets – Battilossi – Bokara Rug Company – Caravan – Creative Matters – Creative Touch – Design Materials Inc. – Eliko Rug Gallery – French Accents – Harcourt Collection – Harounian Rugs International – Jade Industries Inc. – Jaipur Living – Jan Kath Design – Kirkit Rugs – Knot & Co. – Knots Rugs – Label STEP – Lapchi – New Moon – Pampas Leather – Paulig – Rebel Carpets – Rhyme Studio – Rug & Kilim – Rug Icon – Sahar – Samad Rugs – Stark Studio Rugs – Sumaq Alpaca – Tamarian – Tibet Rug Company – Tissage – Tufenkian Artisan Carpets – Wendy Morrison Design – Wool & Silk – Zollanvari
EVENTS
Hosted in partnership with Label STEP
COVER Connect New York provides the perfect opportunity to network and get involved in conversations on current topics pertinent to the rug industry. Visitors and exhibitors are warmly invited to join the COVER Connect New York team for drinks and canapés at the show Party, hosted in partnership with Label STEP, from 7–9pm on Sunday 10 September 2023. The address for the venue— a private bar, with an open-air terrace, in a Manhattan hotel—will be shared with visitors at the show and RSVP can be completed upon registering to attend CCNY 2023.
COVER magazine Editor, Lucy Upward will host two Round Table Discussions, hosted in partnership with Label STEP, in the COVER Lounge at The Altman Building Lower Level, during the show.
Saturday, September 9, 3-4pm Sustainability Goals: The Rug Industry Working Together
Collaborating for an eco-friendly rug industry
Sunday, September 10, 3-4 pm Worldwide Weaving Regions: Highlights and Issues
Global developments and country-specific situations
COFFEE BAR SPONSORED BY DOMOTEX

The Coffee Bar in the COVER Lounge, positioned on the Lower Level of The Altman Building, is sponsored by Domotex. Complimentary barista coffees and other beverages will be available each day of the show.
For more information and to register, visit www.thecoverconnect.com.