Zollanvari Celebrates 75 Years by Learning from the Past and Looking Toward the Future
To say Zollanvari has a long and rich history would be an understatement. The 75-year-old company is known for designer and tribal Gabbehs, flatweaves, and decorative objects, such as mafrash coffers that come in all shapes and sizes.
Its mission today, as it was when it started way back when, is to produce carpets that embody the spirit of Persian carpet design and weaving, an extraordinary art form that has been treasured across the world for more than 2,000 years.  
"This profound understanding of the splendor and profusion of the weaving aesthetic informs our carpet production,  making it unique and timeless—qualities that have established the Zollanvari name as a global trail-blazer in creating carpet art." REZA ZOLLANVARI
"This profound understanding of the splendor and profusion of the weaving aesthetic informs our carpet production, making it unique and timeless—qualities that have established the Zollanvari name as a global trail-blazer in creating carpet art," says Reza Zollanvari, fifth-generation owner of the company.
Together, Reza and his brother Hamid have tirelessly built on the work of Gholamreza Zollanvari—the current patriarch and the fourth-generation owner in the family.
After taking over the business, Gholamreza rediscovered a rug that was not traded commercially in the bazaar—the Gabbeh. He expanded the business by changing it from trading in rugs to producing them.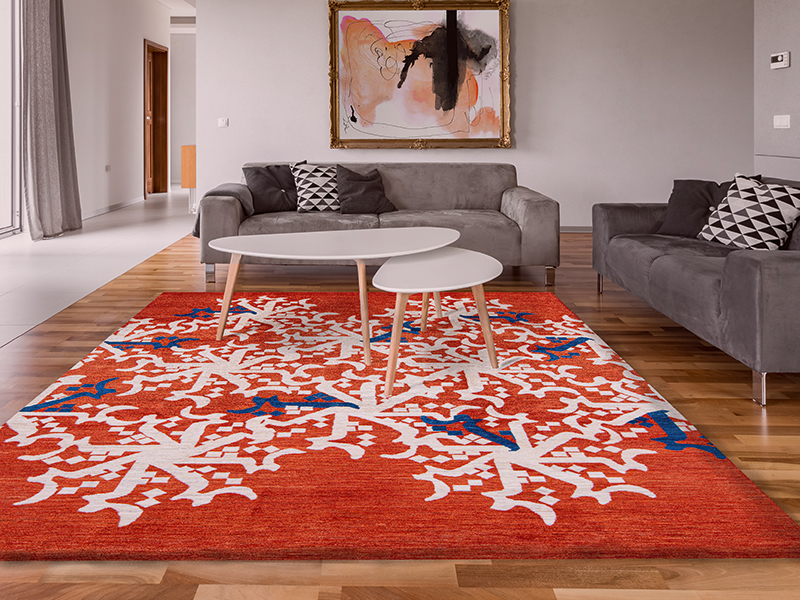 Blue & White Cuneiform S-H-I-R on a Brick, The Lion Collection, NOV24 Studio for Zollanvari
At the outset of this new venture, Zollanvari was, and still remains one of the only companies in Iran that controlled every step of the production process—from producing the hand-spun and hand-carded wool to dyeing it using natural dyes in their dyeing facilities. 
They have a capacity of circa 12,000 weavers in villages who weave their rugs and kelims by hand, and they do the whole finishing process themselves. The company expanded its offerings to the weaving and production of large and room-size Gabbehs using naturally dyed, hand-spun wool, and these 'new' Gabbehs blew up in the world market, with fresh colors, sizes, and patterns, woven to satisfy the demands of Western markets. 
Hamid took over the management of their production site in Iran and put into place multiple programs to keep production as sustainable as possible and re-use scarce resources, such as water. 
Reza expanded the business to Switzerland, where he developed the European and US markets. Having a great sense of Western taste, he invented and developed Zollanvari's award-winning designs and collections. 
And now, Ramin Zollanvari, Reza's son, has expanded the business to China where he was able to develop a new client base. Currently, he is in charge of developing Zollanvari International as a consumer brand across the globe.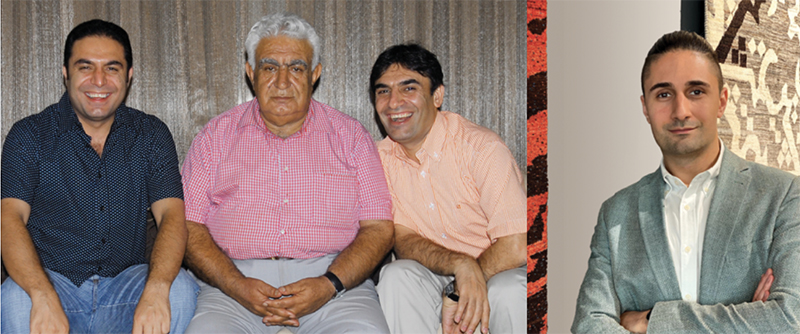 Fourth-generation owner and patriarch Gholamreza Zollanvari seated with his sons Reza (right) and Hamid (left). Ramin Zollanvari (far right), Reza's son is in charge of developing Zollnavari International as a global brand.
Like any good company, Zollanvari has learned a lot from its past. One of the lessons they have learned is to build up and market their brand, which in the early days was almost disregarded. Another equally important lesson was that of preservation/conservation. 
They preserved ever-scarcer natural resources and traditional dyeing techniques that use natural dyes. They also revived numerous weaving and natural dyeing techniques that were almost extinct while cultivating and nurturing extensive personal relationships with numerous nomadic tribes, particularly those from the Zagros Mountains region of southwest Iran where most of their designs are woven.
In addition, they safeguarded the traditional way of life of the nomads and their natural environment with socio-economic programs, such as participation in building hospitals, creating and supporting roving schools to secure the education of nomadic children, the building of water pipes, and more.
Zollanvari is also a certified Label STEP Fair Trade Partner. Label STEP's comprehensive fair-trade standards encompass universal human rights, including the prohibition of child labor, working conditions, fair wages, and eco-friendly production.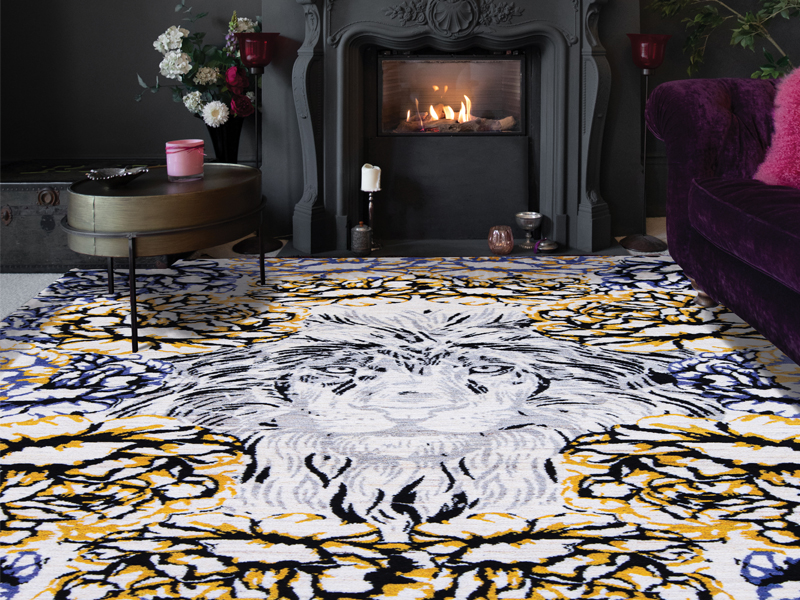 Soltan 2, The Lion Collection, NOV24 Studio for Zollanvari
Together, they support producer improvements while empowering weavers and workers through educational programs on health and safety and financial literacy. In doing so, they reinforce industry sustainability and help preserve age-old artisanal skills.
Of course, they met some challenges along the way, one of the biggest of which was that as producers and wholesalers they had been selling supreme quality rugs and carpets without necessarily attaching their name to the product. With constant developments and advances in the field, they have implemented strategies to make their brand better known to consumers/end-users.
As for the U.S. market, continuing embargoes over the past years resulted in them sourcing comparable weaving qualities from other countries and associates who could recreate under Zollanvari's watchful eyes the same standards in producing their designs.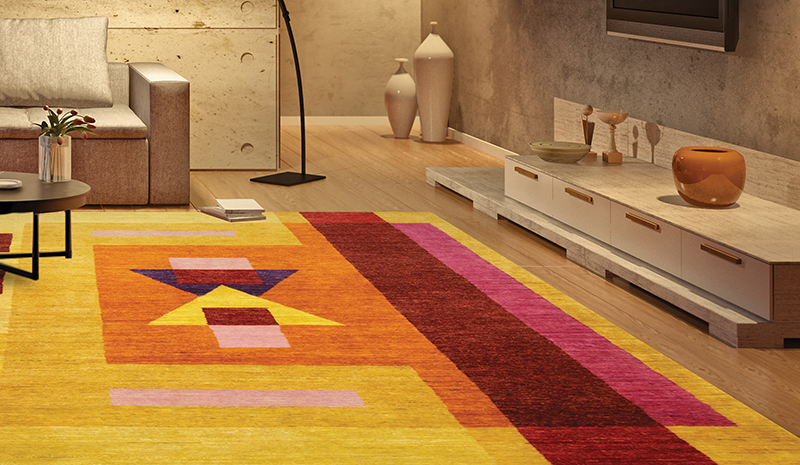 Sunrise v2, Ghashgha'i meets Bauhaus, SoFar SoNear Studio for Zollanvari
They even produced entirely new lines —such as the Kundan Pure Silk™ collections—that are globally recognized and have won major awards, including the Carpet Design Awards, Interiors Awards at IMM Cologne, and the German Design Awards.
As the company learned from its past and challenges, it made some other big changes as well, including utilizing more digital tools. They now participate in virtual exhibitions, put on their own virtual shows, and have upped their social media game. 
In the past few years, they have also worked increasingly with outside designers, as well as their in-house design team Zollanvari Studio, to develop not only new collections but also new products geared towards the home decoration and interiors market. While preserving their 'traditional' Persian tribal collections, they have looked at the weaving heritage across the globe to produce ever-expanding on-trend designer collections.
Looking forward, their goal is to strengthen their position in key markets around the globe and to establish Zollanvari as a universally known quality brand. 
"We have always believed in giving something back to the community and we hope to keep doing so for many generations to come," Reza says. "We aim to maintain our position as a market leader with ever-increasing high-quality designer collections."
IMAGES COURTESY OF ZOLLANVARI