Area rug companies expand hybrid styles to balance artisan- and machine-made constructions.
Trends abound in area rugs, keeping category players busy juggling the gamut of consumers' varied style preferences for products. To name a few: sustainability, artisan craftsmanship, power-looming innovations and performance conveniences.
Melding these attributes is a delicate balance that requires imagination and expertise. But it can be done—and is being successfully accomplished by many versatile companies adept at designing, developing and sourcing a range of product qualities spanning artisan-made to power-loomed and in between.
"People have become more open to new and exciting constructions, and it's making our job kind of fun again, actually," said Wendy Reiss, Vice President of Sales and National Accounts, Kas Rugs. "Covid has made people more focused on their homes, and they want something that makes a statement. Rugs are a great way to do just that. We are helping them by developing new innovations."
But truth be told, current fashions aren't the only dictators of rug sales. Product availability is a critical component to moving rugs in today's marketplace. Macro factors are influencing trends in impactful ways. Key catalysts, like persisting supply chain issues, labor shortages and limited raw material accessibility, are collectively forcing the industry into creative new production and category avenues—not to mention, fresh mindsets—in order to build their inventories and get orders shipped and delivered.
Which means in-stocks—and whatever that includes on any given day in the current Covid-stressed climate—are what retailers and designers are largely turning to in order to satisfy their own customers' demands.
One example is natural fibers, which have recently been more procurable than synthetic yarns—both domestically and worldwide.
A few years ago, hand-tufted rugs "tanked", noted Reiss. But today they are making a comeback for their artisan craftsmanship and sustainability by way of their natural fiber constructions.
"The other part of the equation is that all of sudden, Turkey went through major price increases for machine mades," she continued. "So then India started looking more attractive again, and they do a lot of the handmade natural fiber product."
Nourison this season added cotton accent rugs to its assortment for the first time, and is marketing these new collections as easy-care pieces that are easy for users to maintain.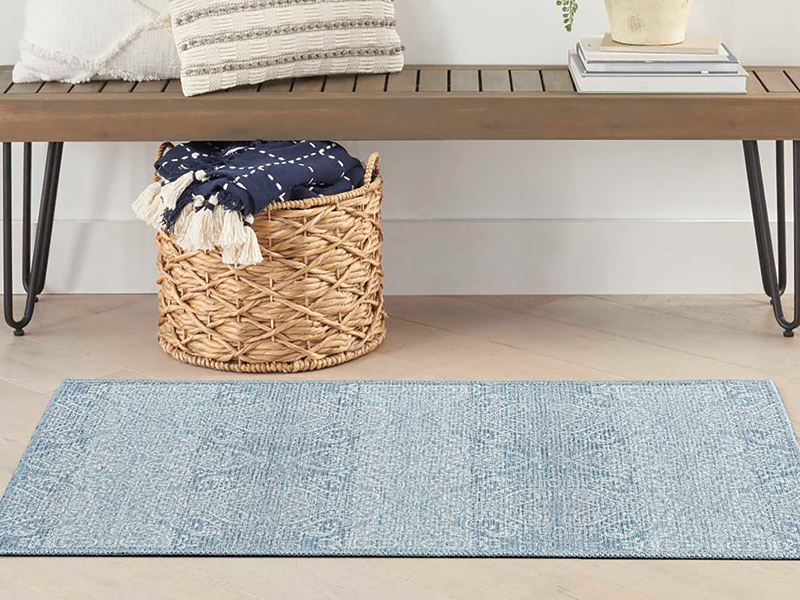 (Above) Nourison's first all-cotton offerings include the new Waverly Washables Collection. Classic floral designs and elegant damask patterns are relayed in a soft blend of chenille and cotton yarns with a lightweight, flatwoven construction.
Launched in October, the 57 Grand by Nicole Curtis Series 1 and Waverly Washables collections both comprise 100-percent cotton chenille rugs—available in accent through 4'x6' sizes.
"There has been a trend toward machine-washable product," explained Giovanni Marra, Director of Marketing and Digital Strategy. "Performance is what people need, and machine-washable falls under that category."
And Jaipur Living has built a whole new artisan program around the remnants of its all-wool hand-knotted rug production in India.
"Natural fibers are in more abundance than synthetics, so we've found that we can continue producing products in 100-percent wool," explained Sasha Wallace, Director of Brand and Strategic Partnership.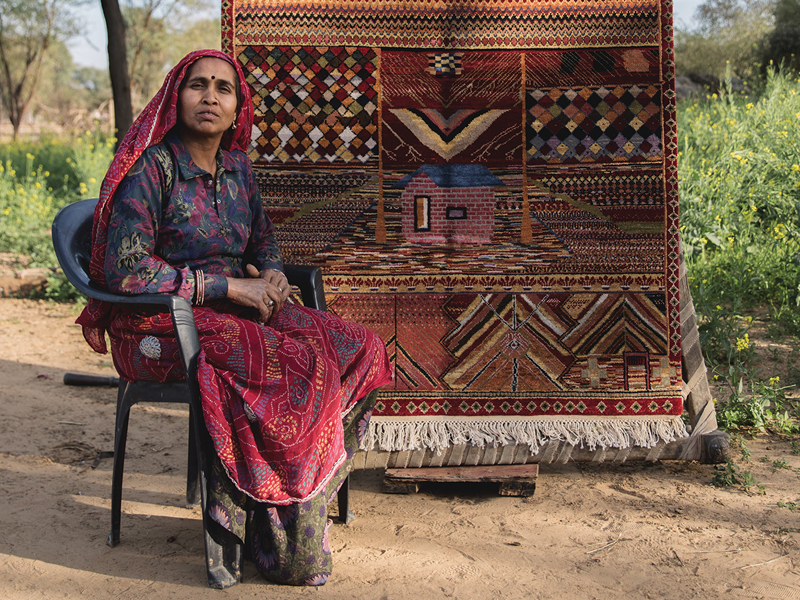 Jaipur Living this year launched the program Manchaha (which in Hindi means "expression of love") to invite its team of artisans to create one-of-kind pieces of their own design using only remnants of the company's all-wool hand-knotted rug production in India.
Affectionately named Manchaha (which in Hindi means "expression of love"), this new program is Jaipur Living's "direct answer to the question of how to reckon with thousands of pounds of yarn scraps." Design Director Kavita Chaudhary of the company's India-based counterpart Jaipur Rugs challenged some of its most prolific artisans from its team of weavers to create their own rug designs—with the only guideline being that they use leftover materials.
"Each handmade rug is the story of its creator, with more than 200,000 knots filled with emotions, dreams and personality," the company explained. "The Manchaha program is more than an opportunity to recycle scrap fabric; it is a testament to the power of creative expression."
The collection is now available digitally on Jaipur Living's website.
When it comes to synthetic yarns, PET rules. Made of recycled plastic bottles, the fiber touts a sustainability story and offers inherent performance features that entice shoppers both socially and economically.
In many cases, rug companies are swapping wool or other natural fibers for PET in hand-crafted collections.
Rizzy Home extrudes its own fibers, including PET which it draws from India's clothing industry. Looking to create a new product offering geared to the mid-tier customer set, the company developed a hybrid rug that is machine-made of PET fibers but is finished by artisans by hand—hand washed, hand sheered, hand blocked and hand serged, explained Larry Hedrick, VP, Business Development.
(Below) Rizzy Home's Signature is the company's hybrid collection of machine-made-and-hand-finished area rugs. These 100% PET fiber-made pieces are first power-loomed, and then transported 400 miles to the company's handmade facility - where a team of artisans finish each piece by hand - shearing, washing, blocked-printing and more.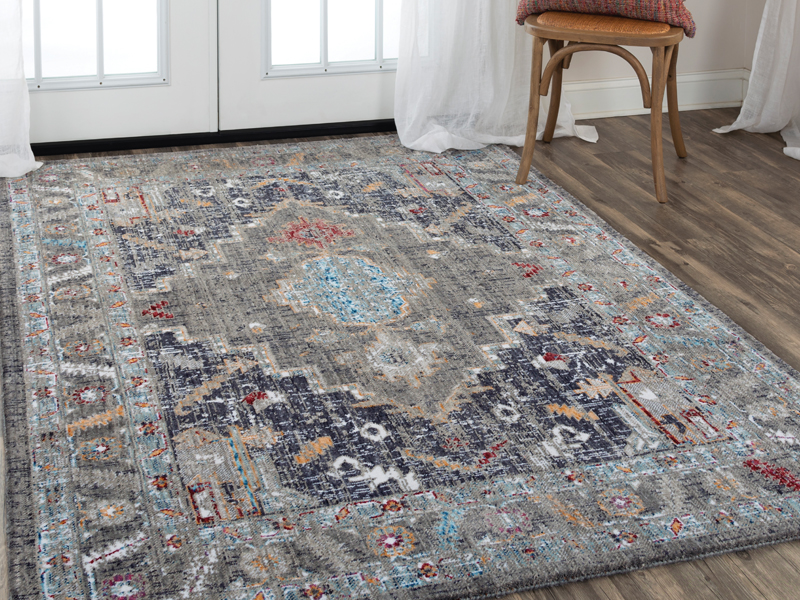 "This is where we meet our customers right at the middle. We wanted to make something better than a tufted rug but less expensive than a hand-knot," he said. "It's our alternative to the opening price point rugs and the high-end rugs. These are performance rugs that have better retails that shoppers are willing to pay today for their inherent value."
Divvied into two collections by color creel, Elite centers on cooler tones while Signature employs a warmer palette. An 8'x10' is set to retail for $899. The program launches this month at the Las Vegas Market.
PET fiber is a relatively new addition to (HRI) Harounian Rugs International's hand-crafted product mix, noted Principal Lee Harounian.
"We've started adding more PET yarn rather than wool for some of our handmade rugs to make them more affordable and performance-friendly," he explained.
Two examples are Malibu and Brooks, both hand-loomed in India of 100-percent PET.
He added: "These rugs can be washed and are water repellent, and PET is much better than viscose to get a similar effect. Viscose rugs must be professionally cleaned, while PET rugs are low maintenance. Some customers want to stay away from viscose so we are trying to use PET or wool with PET or even wool-and-nylon blends as alternatives."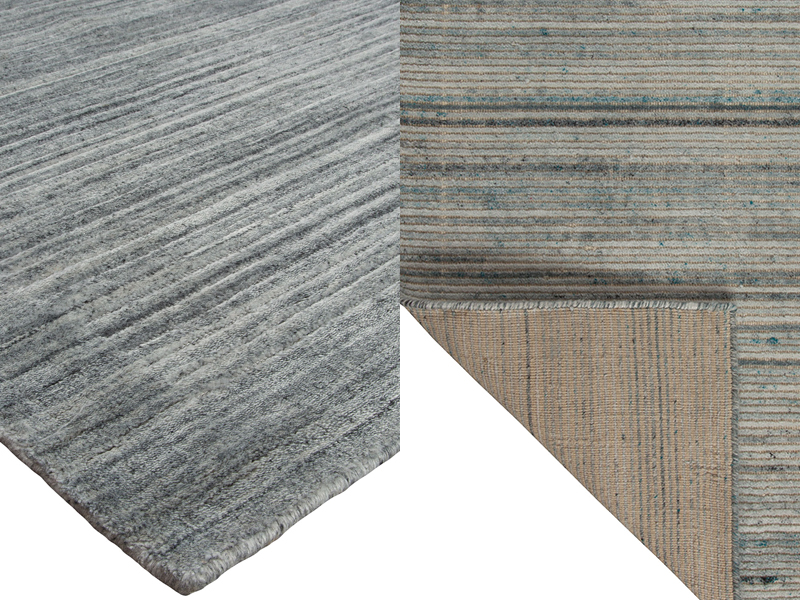 (HRI) Harounian Rugs International is moving PET fiber into its handcrafted product mix as one alternative to wool and, ultimately, to expand the offering to more affordable rugs boasting performance qualities. Two examples are the recently added Malibu (above left) and Brooks.
This tactic of mixing artisan craftsmanship and/or natural fibers with man-made constructions and/or fibers is becoming an increasingly popular innovation—and importantly, a marketing vehicle to earn customers' attention and spending dollars.
Kas Rugs' Kauai and Chloe are two examples of handwoven rugs made of PET fiber blended with jute "for a really cool look," Reiss said.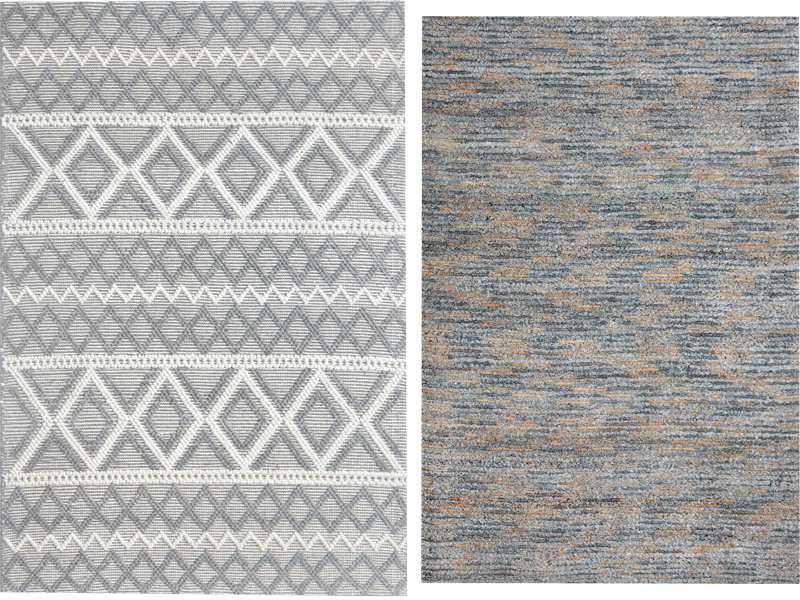 Chloe (left) and Kauai are Kas Rugs' answer to the hybrid trend. These handwoven collections are both made of PET fiber for a super soft, multi-textured, sustainable and easy-care product option.
"We want to round out our assortment with new items that meet what customers want, like handwoven looks with PET fibers or machine-made rugs made of wool, like our Ria collection," she explained.
The newly released Amber Lewis x Loloi collection—in collaboration with Amber Lewis, founder and principal designer at the highly influential Los Angeles-based Amber Interiors Design Studio—encompasses seven rug collections designed to "run the gamut," explained Austin Craley, VP of Sales, Loloi Rugs.
"The collection goes from the lower end to the high end, from machine-mades to handmades," he went on. "This program is different that way than our other partnerships in that is very diverse, while our other brands tend to be more focused."
More specifically, Amber Lewis x Loloi includes a mix of high-end, hand-knotted pieces that carry the GoodWeave certification as well as more accessibly priced power-loomed designs suitable for a range of settings and high-traffic areas.
Added Loloi Rugs CEO Amir Loloi: "We're so impressed by the talent Amber brings to the table. As one of the most prolific designers today, she has her finger on the pulse of where her audience is and where they aspire to be."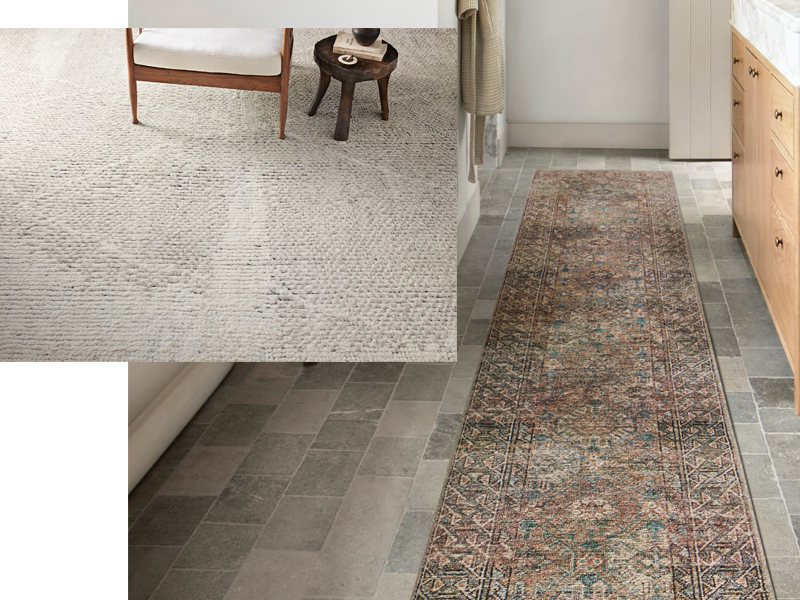 Loloi's recently inked licensed collection with designer Amber Lewis spans a generous range of constructions and qualities to appeal to an equally broad mix of shoppers - from the high-end Gwyneth (above left) to the fashionably functional Billie.
Braided rugs are at the very heart of Capel Rugs, and more than 100 years since the company's inception, the category still generates half of its total sales.
Cameron Capel, President-Sales and Marketing, credits this to the duality of the braids.
"Braided rugs are huge for us and continue to be and it's because their handcrafted-ness is important to people," Capel said.
Although Capel Rugs' braids are machine-made "and not hand-braided like the days of the colonists," Capel explained expert artisans manage the weaving process, adding the hand-crafting aspect to the production.
The company has also consistently updated the look and wearability of these otherwise traditional pieces.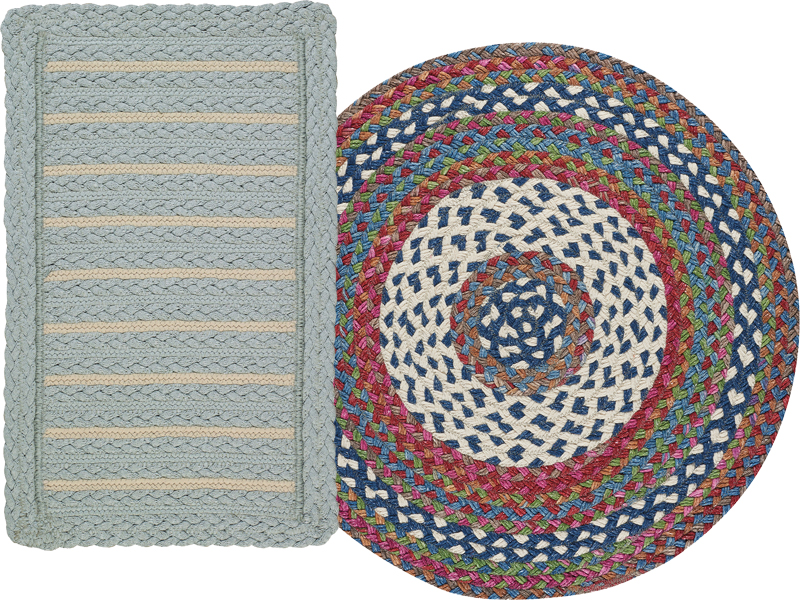 For Capel Rugs, braided rugs remain a core component of the product mix and 50 percent of total sales - even after a century in the company's development. To include modern options for younger shoppers, Capel Rugs offers performance styles like Hammock (left) and Wander.
"These are not your Grandma's rugs. We've worked on making them more hip for today's younger consumer who craves artisan-type products," she said. "We've made more textural pieces so that they don't even look like braids, and in some cases made them of polypropylene to make them easy care. We also use wool and wool blends to achieve different looks."
This season Nourison expanded its Calvin Klein collection with its first offering of accent rugs, also centered on performance features. In line with the brand's designer ethos, these pieces are more sophisticated by way of their handwoven construction and easy-care polyester-rayon blend.
Feizy Rugs is bridging handmade traditions with power-looming innovations to strike a balance in today's hybrid field, noted Justin Yeck, VP, Sales, Marketing and Product Development/Design.
"For our clients, since the pandemic started, the biggest thing trending is sustainability—product that serves a multipurpose and is easy to clean," he said. "So, we're seeing our designers and retailers push us for machine-mades that are durable but in design are inspired by our vintage, one-of-a-kinds artisan rugs."
The Laina and Voss collections, both launched in October, are the company's latest response to these demands.
Laina is a machine-made collection that at the same time is handwoven, as artisans weave Lurex silver or gold fiber into the warp and weft for subtle sheen and surface appeal.
To create the Voss collection, Feizy selected its favorite traditional one-of-a-kind pieces, shipped them to a high-resolution scanner in Pennsylvania, then sent those scans to its Turkey-based facility to have the patterns printed on a polyester base.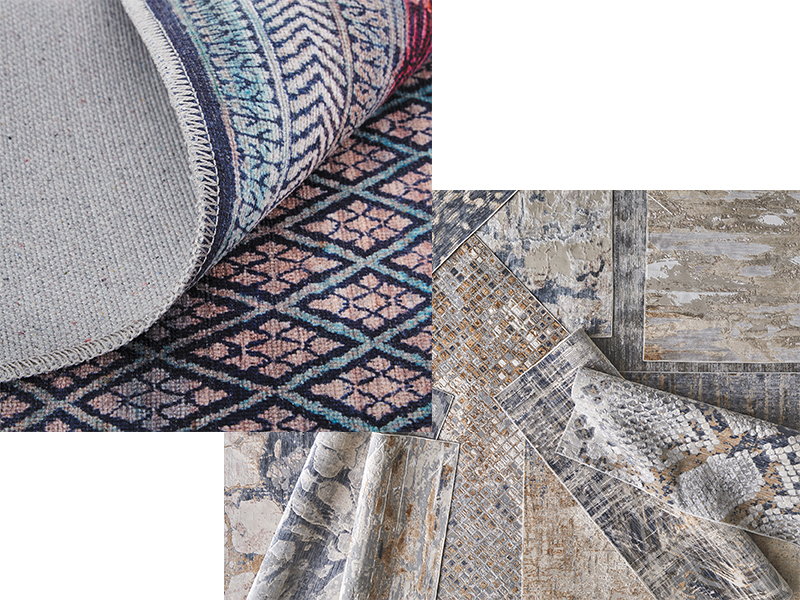 In response to customers' needs for high-design machinemades in durable constructions, Feizy Rugs developed Voss (top) and Laina - both inspired the company's own curated collection of one-of-a-kinds artisan-made vintage rugs.
"What is exciting about this is that Old World feel being over-dyed on a true workhorse construction," Yeck said. "We're evolving our vintage pieces into practical pieces for any client's home."
IMAGES COURTESY OF THEIR RESPECTIVE COMPANIES