Rug companies continue to focus on programs that make it easier for interior designers to find and purchase custom rugs.
Interior designers have always been a critical part of the rug industry. But in recent years, as more people look to furnish their homes and make them a desirable place to live, work and raise children, interior designers have become more important than ever. And because the interior designer channel is booming—with over 119,778 interior designer businesses in the U.S. today—rug manufacturers have been introducing and revamping their designer rug programs to make them easier and more efficient for interior designers.
Kalaty has been a designer-friendly resource since its inception 42 years ago, and that tradition continues today. While the company originally created rug programs for authorized Kalaty dealers, they happened to appeal to designers because Kalaty offers the ability to customize a rug or rugs.
Kalaty's designer-friendly programs include: Custom Coloring, Custom Sizes, and Custom Shapes.
"In addition to the fact that Kalaty offers a vast array of decor styles and colors in weaves, patterns and constructions in their high-end hand-knotted area rug products, that Kalaty is willing and able to customize its high-quality hand-knotted rugs is a big plus for designers," says Virginia Kennedy of Kalaty. "And, that Kalaty is able to deliver quickly is another aspect designers find appealing in working with Kalaty."
Among the company's designer-friendly programs is a custom-coloring program that allows designers the ability to custom color a range of the company's high-end hand-knotted rugs to match fabric swatches, wall coverings, wall colors, a prized heirloom vase, etc.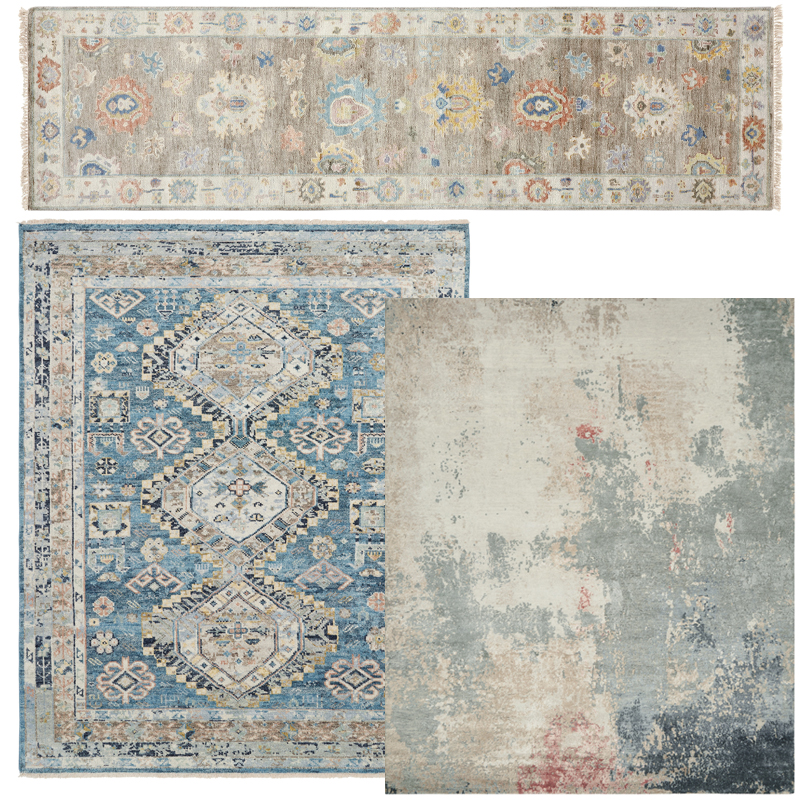 The Adana (runner), Prive, and Canyons (left) collections are just a few of the highly customizable lines from Kalaty, available in surprisingly short lead times.
The company also has a custom size program that gives designers the ability to order custom sizes for most any of the company's hand-knotted rugs in traditional, transitional and contemporary styles (includes extra-large room-size rugs, runners, rounds, and squares). Finally, a custom shapes program, which includes runners, rounds, squares, octagons, is also offered to designers and has short lead times. Kennedy says rugs in all of these programs will be ready to ship with "surprisingly short lead times."
Feizy is also a leader in interior design rug programs, as 60-70% of their customer base are designers. The company offers multi-tiers of pricing so that they can work with all different types of designers.
From a designer program perspective, Feizy has had this evolve over the past five to six years into a couple of different programs.
"First and foremost is the extent of sampling we have— from 18x18 samples, plus 2x3s which are scaled-down versions of the full-size rugs, it makes it easy for a designer to be able to source a product, get the color, figure out where to use it," says Feizy Vice President Justin Yeck."And by getting a 2x3 they can go ahead and bring that product into the space to see what it'll look like for the client."
Yeck says the company has made it very easy to work with them, especially over the last few years, and they've even created a new role to help make the process as seamless as possible.
"We've offered extended returns for designers, brought products in on approval, and also started a new program this past year, the concierge service manager role," Yeck says. "We have 37,000 one-of-a-kind rugs in Dallas, and to be able to operationalize that across the field to all clients we've created this role."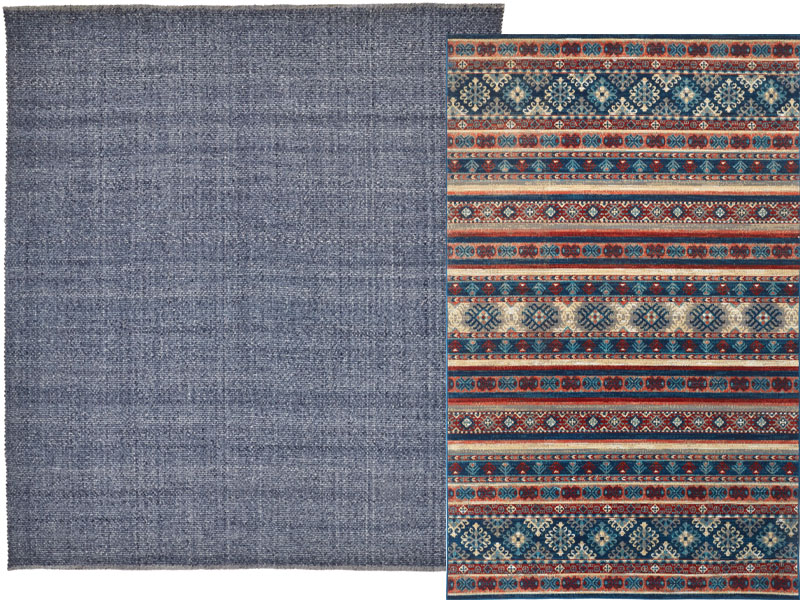 The Naples (left) and Nolan collections from Feizy.
Clients can submit photos of spaces, inspiration, colors, sizes, price ranges to the concierge service manager, and because he knows all of the one-of-a-kind rugs Feizy has, he can curate a selection of three to four rugs to send out to the client for approval. And if those don't work, Feizy covers the cost to bring them back to Dallas.
"It's a great program, and an industry-first to be able to do this," Yeck adds. "Designers are looking for one-of-a-kind rugs and programs, and they help us operationalize it and move it into the client's hands, where we want it to be. 
Feizy's designer-friendly programs include: 2x3 Sampling, Special Pricing, plus a unique Concierge Service.
Yeck also offered advice for those who do not have rug programs and want to start one, or those whose programs need a little revamping. "Designers are so incredibly busy these days," he explains. "If you're not capitalizing on the designer market, you're missing out. We have made designers top of mind, and that's where we started 40 years ago. It's all about taking that approach to be accessible to a designer, responsive, and making it easy to source their products."
kalaty.com
feizy.com

IMAGES COURTESY OF THEIR RESPECTIVE COMPANIES