Customization trends are carving new business opportunities for the carpet category.
Broadloom is enjoying a comeback, but in a different way—thanks largely to renewed interest from designers and more customization-craving consumers. Wall-to-wall carpet is tapping into relevance and resourcefulness in the form of made-to-order area rugs and runners for stairs, halls and entryways.
"Today, everyone wants customization in every aspect of their home and in their home furnishings," noted Christine Zampaglione, Senior Director of Marketing, Stanton. "Customization is the way of the future in broadloom."
The proof is in its proliferation within the marketplace.
In October, luxury carpet and rugs source Stark expanded its customization capabilities via its acquisition of Naples, FL-based Designers' Rug Center, a showroom of wall-to-wall carpet and custom rugs. The company, now known as Design Center by Stark, offers regional clients and interior designers a broader scope of custom rug options as well as enhanced service and support.
"We are thrilled to now offer our clients and the interior design community a greatly enhanced array of the finest quality rugs and wall-to-wall carpet thanks to our affiliation with Stark," said Designers' Rug Center founder Chris Smith. "After 30 years in Southwest Florida, we're confident our past and future clients will love our expanded showroom and increased inventory of the latest luxurious carpet and rugs available."
Then in November the three co-founders of home exercise bike and treadmill brand Peloton regrouped to launch Ernesta, a new direct-to-consumer custom rug brand venture. It is set to launch in Spring 2023, backed by a $25 million Series A round of funding led by Addition.
"I've always had a passion for design, and when I noticed how confusing and overwhelming the process can be for consumers who want great style at an accessible price point, particularly in the rug category, I saw a white space in the market," said John Foley, co-founder with Hisao Kushi and Yony Feng, in a press release. "With Ernesta, our goal is to bring high-quality, custom rugs to a wide audience through a community-driven, curated and personal buying experience. Hisao, Yony and I are excited to work with a talented launch team, some of whom were part of the team that built Peloton into a household name, to help people find the perfect custom rug for their needs in a frictionless, affordable way."
The soft surfaces segment of the industry has always been a large part of the Surfaces component of The International Surface Event (TISE), and this year's event—scheduled Jan. 31 to Feb. 2 in Las Vegas—will feature an expanded show floor to include 425+ participating exhibitor brands.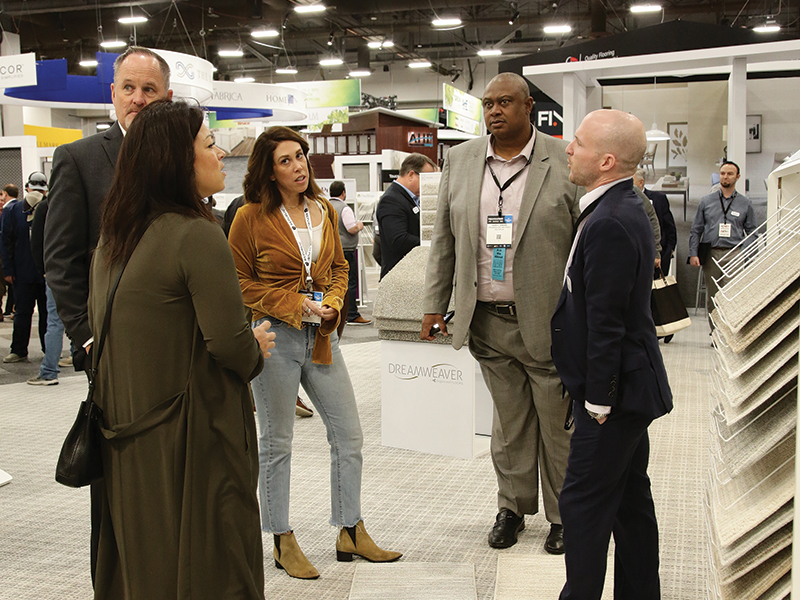 TISE  Surfaces Show 2021
Among the highlights are: Shaw Floors, which returned to the event in 2022 and is back again this year; Stanton Flooring; Mannington/Phenix; Dreamweaver/Pentz; Dixie Home; Kaleen; Couristan; Marquis Industries; Prestige Mills/Stark Studio Plus; and Rebel Carpet & Rugs.
"[TISE] is seeing a great resurgence back to trade shows," Michelle Swayze, Senior Marketing for TISE, told Rug Insider. "As the products our industry serves are very tactile with a need to experience in person, TISE is an important part of the sourcing and shopping experience."
Building on the recent growth of the soft surface category, TISE's Surfaces segment is also debuting a dedicated area to soft surface flooring new to the show this year: the Wools Pavilion, which will serve as a showcase of wool-focused brands like Stanton Flooring, Prestige Mills/Stark Studio Rugs, Couristan and others.
And for the first time since the pandemic, the Design & Construction Week (DCW) is returning to Las Vegas with its five-stop, multi-show, one-badge experience, which includes TISE and Las Vegas Market.
Stanton Carpet is coming to TISE with a focus on its growing luxury performance category—dubbed LION / Luxury Indoor Outdoor Nylon—of broadloom and custom area rugs and runners, Zampaglione said.
"That means it is very high-end, unlike the kinds of performance products the market has typically seen in the past," she explained. "We've made our luxury performance offerings not just very beautiful, but also very soft to the touch, plus easy to clean, durable and able to maintain their quality integrity."
Customization has been part of Stanton's vernacular for 20+ years, she explained. But in the past decade, and especially more recently, the demand for custom sizes and styles made from its broadloom offering has heightened—triggering the company's expanded capabilities.
"We've made a lot of advances in fiber technology, and last year we introduced our own yarn system for LION," she said. "We're now growing that line to meet growing demand."
The company's "Create A Rug Program" draws from Stanton's estimated 4,500 SKUs in inventory at its Calhoun, Ga.-based facility, and is supported by a robust marketing campaign that calls out its customization options on promotional materials created for its 5,000 retail partners across the U.S. and Canada.
"Over the past decade, we have really seen year-over-year increases in customer demand for our custom rugs, and in that time we've really perfected the process," she said. "At our facility in Georgia, we produce over 100 custom rugs per day."
In a fortuitous move, Couristan revamped its custom rug program within its broadloom division just before the pandemic hit.
"We had started seeing our broadloom products being used more for custom rugs and runners for stairs and hallways —in fact, the majority of our custom cuts were coming from broadloom. And that made us realize [custom] was becoming an important component of our business," explained Larry Mahurter, Senior Vice President of Marketing and Advertising.
Couristan broadloom installations, left & center: Boteti/Aegean and Royalax II - New Keshan/Ebony Sky courtesy of Sudbury Rug and Carpet; far right: Envision Collection - Daring/Aegean Blue courtesy of Floor & Decor.
In support of that effort, Couristan also revamped its merchandising tools to showcase carpets as custom rugs in room scenes, and added a custom rug calculator to offer customers real-time quotes on custom orders, he added.
Area rug company Kaleen made the move into the handmade broadloom category in 2015, and "from the start it's been a consistently strong business for us," said Monty Rathi, Chief Operating Officer.
He continued: "Wall-to-wall carpet has typically been a lower-end product from the major suppliers. We found our niche in handmade all-wool and wool-rich blends, and it's working well for us. We've grown from zero to 850 SKUs of carpet in just seven years."
Custom rugs cut from carpet are a driver of the business, Rathi noted, which is partly why Kaleen's broadloom program is expanding from three to four collections come January at TISE Surfaces. The company will launch its new Home & Porch program of outdoor-friendly products, hand-woven of UV-treated polyester [lede image].
"It comes in broadloom plus custom rugs and runners," he noted. "We can customize a rug in any size up through 16 foot 4 inches wide and 85 feet long."
The company's three other broadloom brands are:
Kaleen, which comprises a mix of textures and wool blends;
Pure Life, a 100% natural fiber product that employs a clean construction free from harmful chemicals;
Hook & Beam, a collection that is 50% machine-made and 50% hand-crafted.
Similarly to Kaleen, Momeni launched its broadloom division seven years ago, "and it has grown steadily for us in that time," Reza Momeni, Principal, said.
Covid put the brakes on the company's new product development for the category, which for Momeni spans mostly all-wool and wool-rich blends.
"But designers love it, and they really like that we can customize into rugs, so we are planning to add new looks and new constructions in the second half of 2023," he said.
A more than 30-year player in the broadloom arena, Nourison has seen orders for custom rugs from broadloom climb considerably, said Giovanni Marra, Director of Marketing & Digital Strategy.
"People like the cleaner looks broadloom offers, but they want them as custom rugs," he noted. "And they like the idea of coordinating throughout the home with different but related products—for example, broadloom in the living room, custom runners in the entryway or stairs, and a custom rug in the dining room."
Nourison offers a diverse broadloom mix. Its tufted line is produced domestically at its Georgia-based facility, but it also imports other varieties from China and India.
To keep the assortment fresh and fuel ongoing client interest, Nourison is adding specialty looks, including new hand-carved patterns. Carpet comprises 40% of flooring giant Mohawk Industries' total flooring business, said Bart Hill, Senior Vice President of the Mohawk Home division.
In line with the continued growth of hard-surface flooring, the need for area rugs increases in tandem, he observed. And that includes custom styles cut from the company's wall-to-wall offerings, he noted.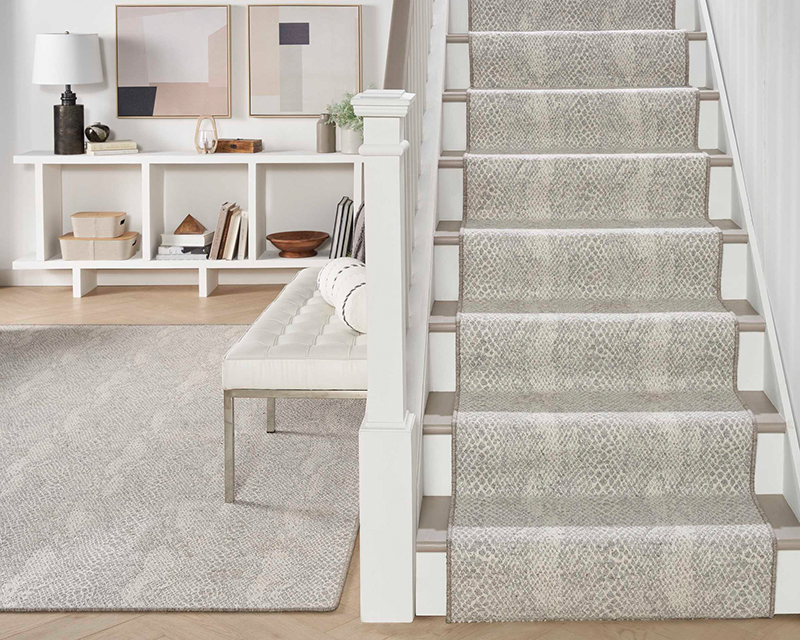 Nourison broadloom custom rug and stair runner.
"To that end, we're adding more patterns in tufting, more multicolor, more tonal, more high-low looks, more loops and cuts—especially for the high-end side of the business," Hill said. "These advancements in tufting techniques allow us to create better custom rug options for our customers."
While not a broadloom source, longtime area rug player Dalyn has put a new lease on the life on its custom rug program—made from rolls of broadloom.
"What put us on the map was our custom rug program that we had for years. But it became dated, and it eventually went away," explained Brian Vander Werf, Vice President of Sales & Marketing.
For five years, Dalyn explored alternative ways to bring the program back under a new identity that made sense and filled a gap in the marketplace.
"We wanted to reinvent ourselves in the custom rug category, but we wanted to do it right," he said.
Two years later, they found their formula: "Take our top sellers that we were already bringing in as rugs in six sizes, and make them available for customization."
Custom sizes are unlimited in length and can go as wide as 15 feet, which is the width of the carpet roll. Shapes are also available and include rectangle, square, round, oval, and octagon.
Dubbed "Tailord," the program spans "what call active solids" that are loomed and tufted into 21 different qualities.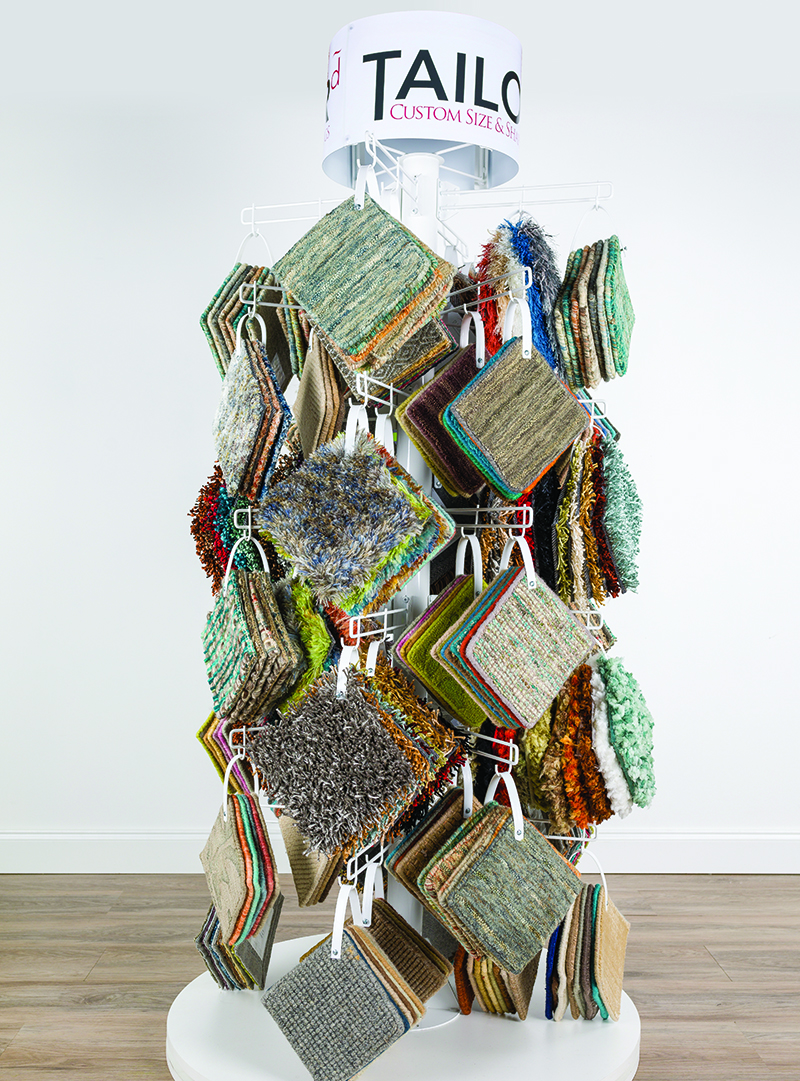 Dalyn's Tailord program includes top-selling collections available for customization.
In 2023, Dalyn is expanding the line to 30 styles, adding several new looks while replacing some existing styles that haven't been as popular.
"Tailord has been a success for us," Vander Werf summed. "We're very pleased with it, and we have room to grow."
IMAGES COURTESY OF THEIR RESPECTIVE COMPANIES.