Interior designers talk about rug trends and explain how manufacturers can better help designers with rug needs.
There are rug people—those who love funky designs and bright colors—and then there are not rug people—people who enjoy a simple, solid design with a nice border. But regardless of the person, rugs have graduated from simply being an accent to being a full-on statement piece in most people's homes; They change the entire look of a room.
Interior Designer Libby Langdon knows this well, as she's worked with many clients who want both types of rugs for their homes. And one of the biggest trends she's seeing today is that rugs are following in the footsteps of performance fabrics.
"The wearability and functionality of rugs is more important now than ever before," Langdon explains. "We're seeing that as a focus, and it's fascinating because when people get new things they're just so worried they're going to destroy it. One of the first questions they ask about rugs is how can they clean it."
She also says people are having fun with patterns in rugs. "Maybe they're keeping some of their bigger pieces of furniture neutral, but with rugs, they feel like they can take chances with colors and patterns to add personality to the space," she adds.
Langdon has a licensed collection with KAS Rugs, and the latest pieces debuted in April 2019. And though her clients enjoy patterns and color, she also says her outdoor rugs—which are functional but a little more toned-down in terms of pattern and color—are some of the best-selling rugs in the collection.
"When I design my collection for KAS, it's tricky because sometimes something simple is the most saleable," she says. "Oftentimes people feel like they have to put in special fibers or have a crazy pattern. And there are people who love crazy patterns, but there are also people who just love solid rug with a beautiful border."
She says she faces challenges when it comes to rug sizes, which she's solved with her KAS collections by offering rugs as large as 12' x 15'. But she adds that manufacturers can help designers by offering bigger sizes and by providing swatches to show to clients.
"The wearability and functionality of rugs is more important now than ever before."
"The No. 1 challenge we have is companies that we can't buy swatches or samples from," Langdon explains. "The challenge is that a rug is covering probably one of your biggest surfaces in a room, so color is super important. And we all know that what we see on our computer screen is not true to color."
In fact, Langdon says she's been burned before because a rug color online was not the same color as the rug in person.
"We've stopped ordering from companies that don't provide rug swatches," she says. "I just can't take that chance on it and there's nothing more embarrassing than them rolling out the rug and all the furniture that's in the truck doesn't match it. And we don't mind buying them—they can be 12' x12' or 18' x 18'—but I'd rather spend however much to buy a swatch than have the wrong rug show up."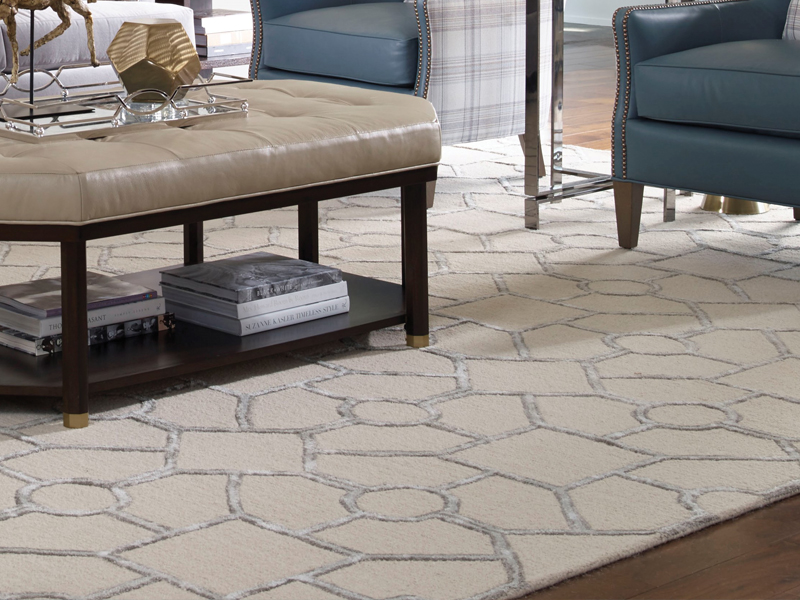 Langdon's Upton Collection for KAS. Photo courtesy of KAS.
Interior designer Shelly Rosenberg, founder and owner of Acorn & Oak by Shelly Rosenberg, works with families with disabilities, and like Langdon, she says one of the challenges she faces when it comes to rugs is the sizes available.
"I would always love more custom options for sizing," she explains. "It would also be nice to have more rounds and squares. Everyone does typical sizes, but you don't usually see rounds or squares or something more interesting."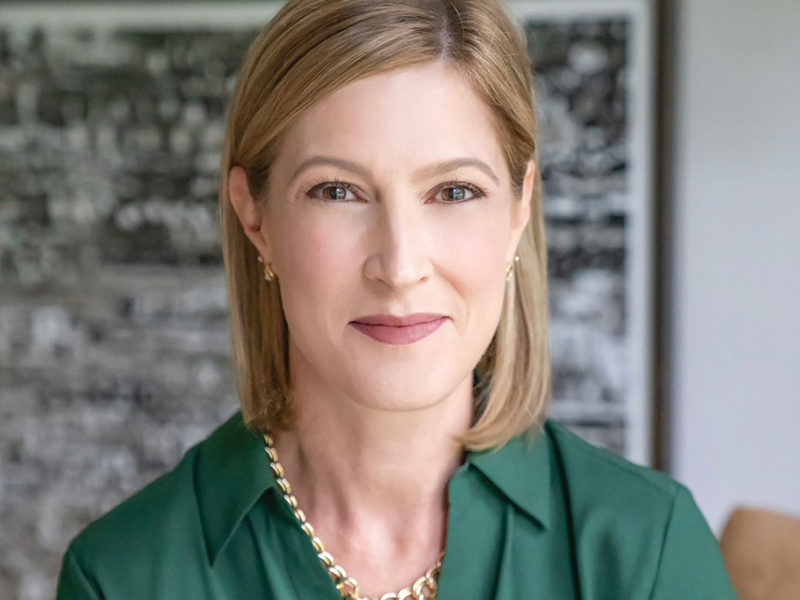 Shelly Rosenberg (above), founder and owner of Acorn & Oak by Shelly Rosenberg. Photo by Danny Piassick
Rosenberg works in Texas where there are a lot of mansions that need large rugs, and she says it's hard to find large rugs that don't cost a fortune.
"Many times I'll go to a carpet manufacturer and find broadloom carpet and create my own rug if my clients don't have money to do a 15' x 18'," she explains.
As a designer who works with families, she's always looking for sustainable options that are as safe as possible for her clients. But right now, she says many of the new rugs made with healthier materials are too expensive for many clients.
Just like food, the healthier the material, the more expensive the rug. For that reason—and because she can't find many healthy and affordable options on the market—she likes to find vintage rugs that are made with safer materials, like plant and insect dyes.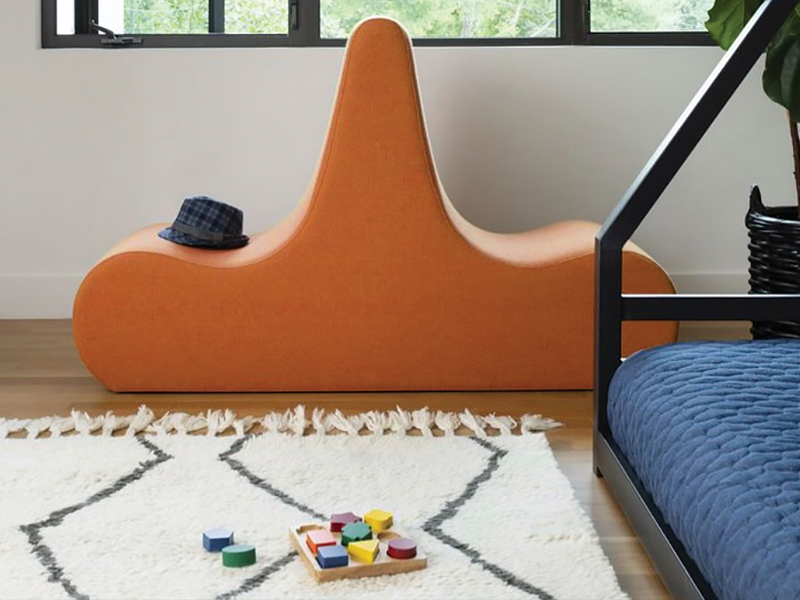 A sensory-friendly bedroom designed by Shelly Rosenberg. Photo by Danny Piassick
"In general, I just see these Moroccan rugs and fun colors coming back," she says. "People are optimistic and ready to use color on the floor. For so long people wanted to go really safe with rugs because it's an investment, but now people are more willing to work with color. The trouble is the cost."
"[I] not only teach a client how to care for the rug, but also how to justify the investment." 
However, she does say that the information manufacturers give about rug care has been particularly helpful because most people feel paralyzed about how to clean a rug. And it could help with the cost issue.
"I've enjoyed having a lot more education and not only teach a client how to care for the rug, but also how to justify the investment. People want beautiful rugs, but a lot of the larger ones are expensive. People just can't do that. But if we can help educate the client, you can help them understand why investing in one good rug is a good idea."
In regard to what manufacturers are doing right, Langdon adds that rugs are shipping extremely quickly, which she says is more critical today than ever.
"It's important for consumers to know how much a rug can change the look of furniture that they already have," she says. "If they want to spice up their space, the "you can get it now" and "it's going to be a dramatic before and after," is a great story for manufacturers to tell. If they can show befores and afters, it really tells the story and helps sell their product.