As more outdoor rugs are used indoors, rug manufacturers rethink ways to market the product and find success with design partnerships.
As people were forced to stay in due to the pandemic, it drove many to start making home improvements—and this benefitted the home furnishings industry greatly.
However, there's one category that grew exponentially: outdoor furniture and accessories. According to research from the International Casual Furnishings Association, 90% of Americans with outdoor living space have been taking greater advantage of their decks, porches and patios, and consider their outdoor living space as more valuable than ever before.
And that trend isn't slowing down, as the data also showed that nearly six in 10 Americans (58%) plan to buy at least one new piece of furniture or accessories for their outdoor living spaces this year.
That includes outdoor rugs, but these pieces aren't just for the outdoors anymore. More and more consumers and designers are using them indoors, and a shift appears to be taking place.
Loloi has carried outdoor rugs for over 10 years, and as technology gets better, Loloi's Vice President of Sales Austin Craley says the variety of looks and textures available in outdoor rugs continues to increase.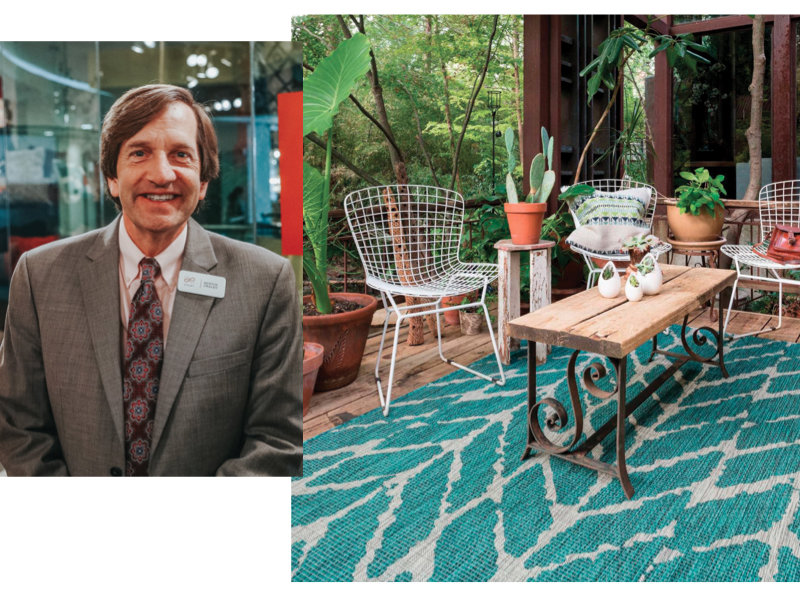 Austin Craley, Loloi. IE-02 teal/grey is from Loloi's Isle collection.
"There are just more choices for the consumer now, and as we've all seen, especially through COVID-19, people are wanting their homes to be an oasis away from some of the problems out in the world," Craley says. "They're spending more time at home than ever before."
Craley says that as outdoor rugs have improved over the past 10 years, there was a lot of runway for outdoor rugs. But before then, he says the only outdoor pieces available were basic, cheap, and ugly.
"As these additional choices became available, we knew outdoor would be an exploding category," Craley says. "People have bought rugs for the inside of the home for years, but they really haven't for the outside. So we know there is a lot of opportunity and growth—every year it keeps getting bigger and stronger. COVID has just been an exclamation point on that growth opportunity."
And because Loloi's customers often use outdoor rugs inside, the company—as well as many others in the industry—have stopped referring to pieces as indoor-outdoor and instead call them easy-care products.
The reason, according to Craley, is that you limit rugs when you say that they're just for the outdoors. People don't necessarily want an outdoor rug, they just want one that's easy to clean and care for.
"You limit rugs when you say that they're just for the outdoors. People don't necessarily want an outdoor rug, they just want one that's easy to clean and care for."
"So you've now broadened your potential customer base tremendously," Craley adds. "They're an easy sell when you tell people how to care for them."
Feizy—which also refers to its indoor-outdoor rugs as easy-care products—has been in the outdoor rug game for 15-20 years. And in the last two to three years, the company has expanded the line to focus on the ability to use it inside.
According to Justin Yeck, Feizy's vice president of omnichannel sales, marketing, and product development & design, they've found their niche within the outdoor category.
"Our point of difference is that you're not going to find a $99 5x8 rug," Yeck explains.
"But where we have a niche in the market is that our indoor-outdoor goes up to a 12' x 15'—which is almost unheard of in the outdoor industry."
Feizy has also gone all-in on a material not often used for outdoor rugs: polyethylene terephthalate (also known as PET, or the chemical name for polyester.) One of their newest collection is a hand-knotted PET rug, and Yeck says Feizy is the first in the industry to utilize PET in a hand-knotted construction.
"It has a beautiful, weathered and timeless pattern on it that we adore, and clients have loved putting it inside as well as out," Yeck explains. "We get to see a lot of products before competitors because we've had relationships with vendors in India for 48 years. So when we saw this piece, we realized we hadn't seen anything else like it and immediately jumped on it because we knew it'd be a hit. And it was actually one of our top three sellers at the winter Las Vegas Market.
Designer Partnerships
With today's innovations, many outdoor rugs are nearly indistinguishable from traditional indoor rugs, which is due in part to many rug manufacturers partnering with interior designers to help create these indoor designs and help bring outdoor rugs inside.
Momeni has licensed collections with The Novogratz, Erin Gates Design, and Madcap Cottage, and Reza Momeni, the company's president, says all three licensed collections have helped with the success of the outdoor category.
"Part of our outdoor strategy has been to work with licensing partners, and the industry has responded well," Momeni says.
Feizy has also found success in the outdoor category by partnering with interior designer Kerrie Kelly of Kerrie Kelly Design Labs on the Haute Trends line—a collection of vibrant and geometric designs. The line did so well that Kelly is also launching a California casual collection featuring fresh, classic designs that are durable enough for indoor or outdoor use.
"I think we continue to see the shift towards easy-care," Kelly says. "People are now living where they work, and being able to have flexibility and ease of use with their space has become more important than ever. Ultimately I think this trend isn't going anywhere for a while and will continue to push the entire home furnishings industry."
And within the easy-care category, the trends are starting to look a lot like indoor rugs.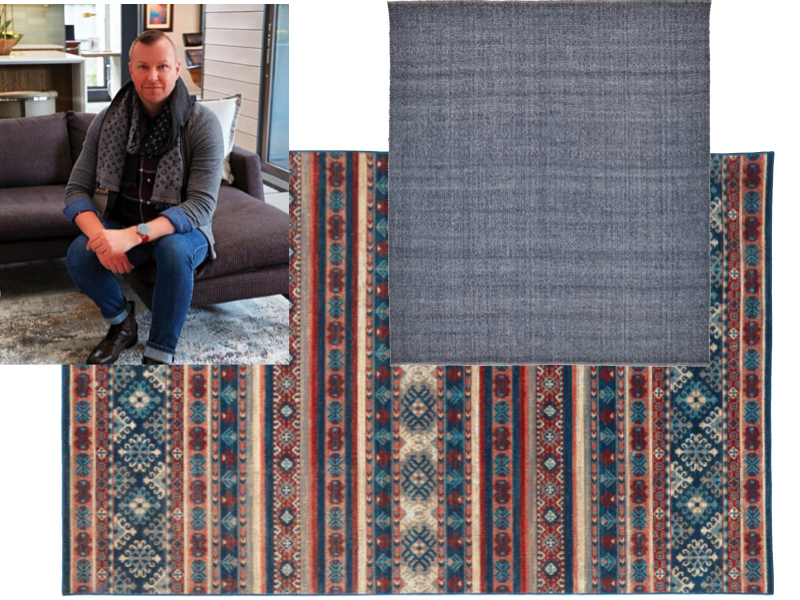 Justin Yeck, Feizy. Handwoven polyester Naples in navy (top) and machine-made polypropylene Nolan 39ATF blue-rust are from two of Feizy's newest 'easy-care' rug collections.
Yeck says that traditionally with outdoor rugs they're bright or bold-colored, and look like they're just for outdoor. But the big trend now is taking some of those traditional hand-knotted designs and contemporary designs and making them with PET that can be used both inside and out, and it doesn't look like it's an outside rug.
"Design elements that would typically be used indoors are being used more and more … this could become the new standard for rugs."
"Years ago, outdoor rugs were the flattest of flat and ugly," he says, "Now you've got a lot of variety and the ability to sell it for indoor use. Data is hard to come by to prove it exactly, but from what we hear from customers, they feel like they're selling more for indoor use than outdoor."
Craley agrees, and he says even the most popular colors for outdoor—blue and grays—are also the most popular colors for the indoors. Though there are still more greens and browns outdoor compared to indoor.
"Those colorways seem to work better when you look at outdoor fabrics and cushions," Craley says about greens and browns. "But some more outdoorsy patterns like geometrics or tone-on-tones are doing great for outdoor, and those are traditionally indoor patterns."
Interior designer Nikki Chu has been a Jaipur Living licensing partner for seven years and says that years ago, all of the more traditional rugs had smaller patterns. But now, it's about the openness of a rug.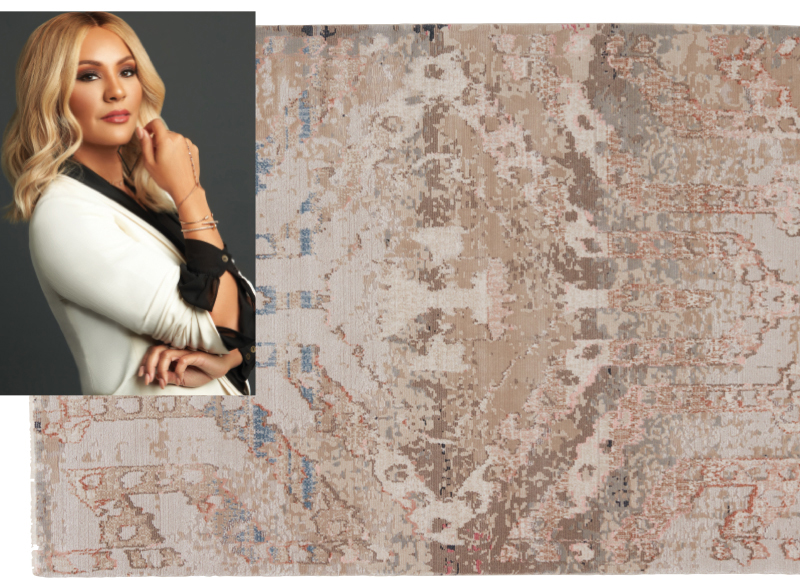 Jaipur Living licensing partner Nikki Chu uses vibrant colors to create bold and graphic rug designs in a variety of fashionable styles.
"Today they're large scale, two-toned, and create a really bold and graphic story in a room or space," Chu says. "And our approach when designing these high-performance indoor-outdoor rugs is to take a more indoor approach to the way the rug looks."
With these high-performance rugs being used indoors and outdoors, Chu says design elements that would typically be used indoors are being used more and more, and that this could become the new standard for rugs.
"I think that you're going to start seeing a lot of texture," Chu explains. "The more you see these outdoor rugs the more you're going to question if you can put them outside. The way they're getting made looks more like an indoor rug, and I think the lines are going to be blurred."
IMAGES COURTESY OF LOLOI, FEIZY AND JAIPUR LIVING.