Designers discuss what rug trends they're seeing today and what their clients are asking for.
If there's one thing everyone in the industry wants to know, it's what styles and colors are trending this year. However, that's not always an easy thing to pinpoint.
Luckily, interior designers offer a direct line to consumer's wants and needs in terms of styles and trends, and their knowledge can help manufacturers create products that consumers are asking for.
Colors and Styles
In terms of styles, colors and patterns, designers agree that Art Deco is in, shades of green and blue will continue to be popular, and indigenous patterns are on the rise.
Gary Inman, owner of Gary Inman Home Couture, and his business partner, Zach Hodgin, saw Art Deco designs across the board at the October High Point Market. "Midcentury is going to linger, but I think Art Deco will replace it, and I've had other colleagues who agree," Inman says.
Kerrie Kelly, founder of Design Lab Interior Design Services, has a rug line with Feizy and says modern styles have been created by merging transitional and traditional looks, particularly when using distressing methods to make an area rug look antique.
"Bold geometric prints from 2020 will continue throughout 2021 in a more subtle yet grounding way," Kelly says. "Red, gold, and orange are also making their appearance as color makes its way back into the home. Soft neutral palettes featuring neutrals, blue and green have been popular throughout 2020 and will also continue in 2021."
Inman agrees, saying green is coming in thanks to an interest in organicism, and blue will always be at the top of the trend wheel.
He also sees an autumnal color palette emerging. "With color trends, I don't think there's a singular trend anymore," he says. "Everything oversaturates quickly, so trends cycles move faster than they have in the past. Everything is shared globally very quickly, almost overshared, so people want to move onto something new."
As for other emerging trends, both designers have also noticed an uptick in indigenous patterns—like Moroccan, Native American and Peruvian designs.
Performance
While rug styling has not changed drastically over the past couple of years, performance materials have become more prevalent both indoors and out.
"The low maintenance qualities that outdoor rugs offer continues their popularity indoors as families lookfor durable performance materials throughout the home," says Kelly.
Kelly explains that people are now living where they work, so being able to have flexibility and ease of use with their space has become more important
than ever.
Joann Kandrac, co-owner of Kandrac & Kole Interior Design, says she's also seeing this performance trend because the majority of people want livability and a rug that's easy to clean.
"Cleanability is one of the main things people are looking for," Kandrac says. "It seems like a lot of people don't know the indoor/outdoor rugs exist, so we recommend them to clients, as long as they don't have that plastic look. We generally pick a rug based on where it will be used in the house. Kids like softness if they're crawling around, and parents like rugs that are easy to care for."
And with that, Inman says layering rugs is now a huge trend. "I'm seeing a lot of organics again, like sisal and seagrass, and people are using those as a foundation and then putting an interesting area rug on top of it."
Kandrac also says her firm does a lot of layering with sisals and jutes, however, she says they're always on the hunt for softer jute or sisal rugs that are easier to clean.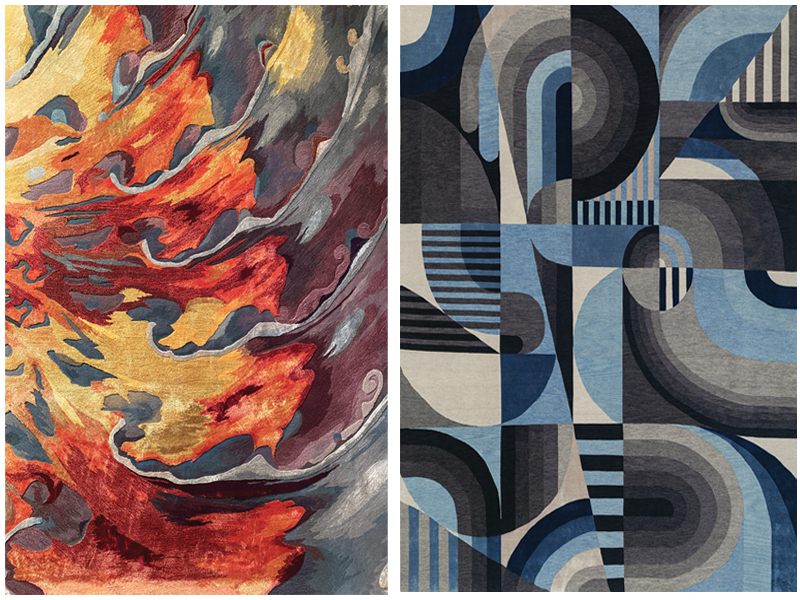 Custom Options
While designers work with their clients on finding the right items, there are a few things designers would like rug manufacturers to offer to help make designing easier.
Kelly Kole, Kandrac's business partner, says it's really hard to find rugs in custom sizes that don't take 16-20 weeks to ship. "We end up doing a lot of carpets and having them serged or bound because the size is 9x13 but we need an 8x10," she says. "Making more available sizes would be great."
Inman seconds Kole's request, saying that being able to scale or modify the color and tailor a rug to a client is a very important selling element for designers.
"People want beauty and performance, as well sustainability," Inman says. "They want a lot of value from that piece. Also, looking on the hospitality side, we like rugs that have staying power and don't just follow the current trends."
Kelly adds that manufacturers who offer easy and sustainable ways to support designers as they present to their clients are always helpful. "Virtual training, user-friendly websites, collaborative sales teams and free samples that can be easily returned make for beautiful design presentations that clients can visualize and ultimately commit to by purchasing product," she says.
With more people staying at home due to the pandemic, rugs sales have actually increased. And that makes it even more important for rug manufacturers to listen to their clients and produce what's trending.