As the muggy days of Summer fade and the weather turns crisp and mild we look forward to what autumn has in store. For many, it's the back-to-school season, and those who have been working remotely from home, or with a hybrid schedule, return to the office on a regular basis.  For the area rug industry, Fall means a busier schedule of showroom visits, appointments, and product introductions, and perhaps most significantly, the return of the Fall Rug Markets.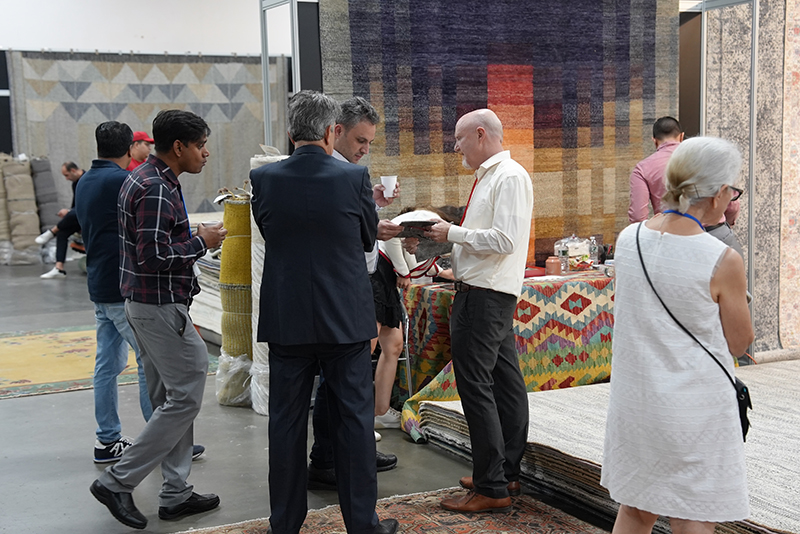 S&H Rugs welcomes buyers to TRS 2022
The Fall Markets are led by the two major rug shows that take place in the New York/New Jersey area: COVER Connect New York in Midtown Manhattan and The Rug Show in Secaucus, New Jersey. The two shows run concurrently from Saturday, September 9 – Monday, September 11. Each includes numerous exhibitors, who represent some of the leading names in the world of area rugs today.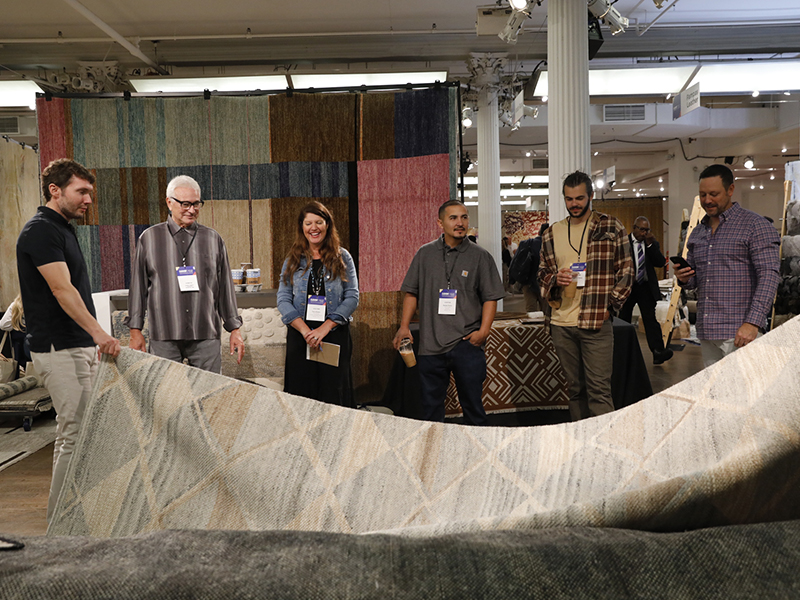 Sharing what's new at CCNY 2022
COVER Connect New York will be in its third year this fall and will take place at 125 West 18th Street—spanning two neighboring venues, at the Metropolitan Pavilion and the Altman Building. The show is open to industry professionals and includes nearly 40 top companies, including Anadol Rug Co., Ariana Rugs, Asha Carpets, Asia Minor Carpets, Battilossi, Bokara Rug Company, Caravan, Creative Matters, Creative Touch, Design Materials Inc., Eliko Rug Gallery, French Accents, Harcourt Collection, Harounian Rugs International, Jan Kath Design, Jaipur Living, Kirkit Rugs, Knot & Co., Knots Rugs, Label STEP, Lapchi, New Moon, Pacific Collection, Pampas Leather, Paulig, Rebel Carpets, Rug & Kilim, Rug Icon, Sahar Carpets, Samad Rugs, Stark Studio Rugs, Sumaq Alpaca, Tamarian, Tibet Rug Company, Tissage, Wendy Morrison Design, Wool & Silk, and Zollanvari. This show, organized by COVER Magazine and HALI, was one of the busiest market shows in 2022 and has a ton of great buzz ahead of its highly anticipated return.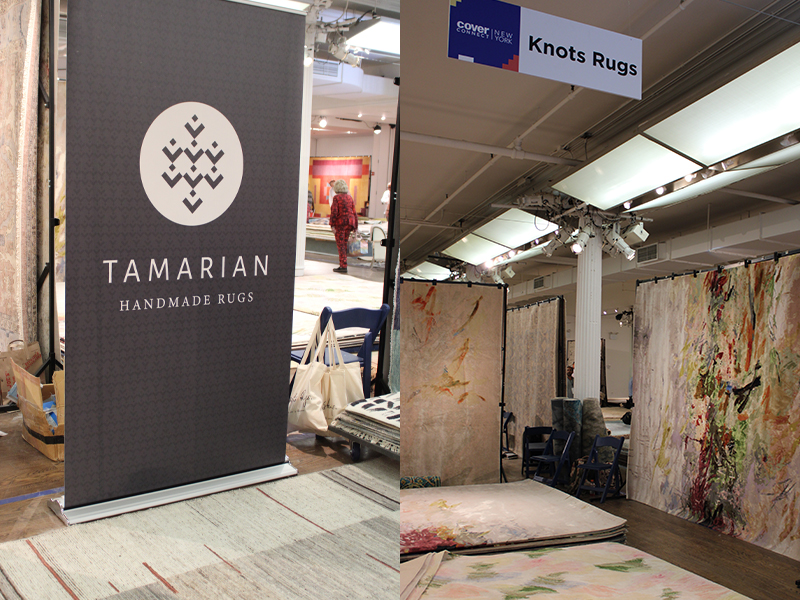 Stunning displays by Tamarian (left) and Knots Rugs at CCNY 2022
The Rug Show, which has been one of the top shows in the trade for over a decade, will return for its second consecutive year at the Meadowlands Expo Center in Secaucus, New Jersey.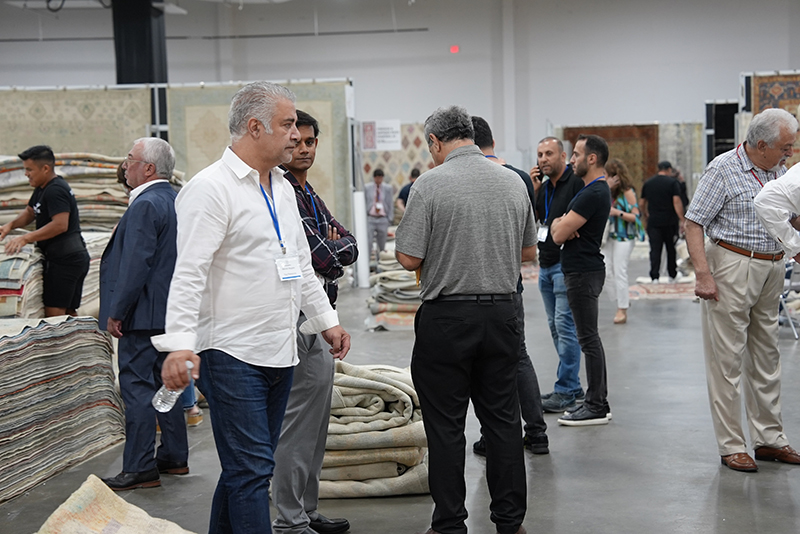 Traffic at The Rug Show last fall was brisk. This year's registrations have already exceeded 2022.
The vast exposition space will host a growing number of exhibitors this year, including industry stalwarts such as Afghan Bazar Rugs Inc., Alpine Rug, Andkhuy Rugs, Anwar Rugs, Arsin Rug Gallery, Art Resources, Kalaty, Kehkashan Rugs, Liberty Rugs, Momeni, Neman International, Palladium Rugs, Palazzo Carpets, Royal Antique, S&H Rugs, Sam Shamouilian Inc., Shalom Brothers Inc., Soheil Oriental Rugs, Turkish Carpets USA, Turkish Rug Company, Turkmen Rugs, and Turquoise Mountain. This year's edition also features the eagerly awaited return of the Antique Rug Pavilion, a sub-section of the show dedicated to vendors who primarily feature vintage and antique rugs in their collections.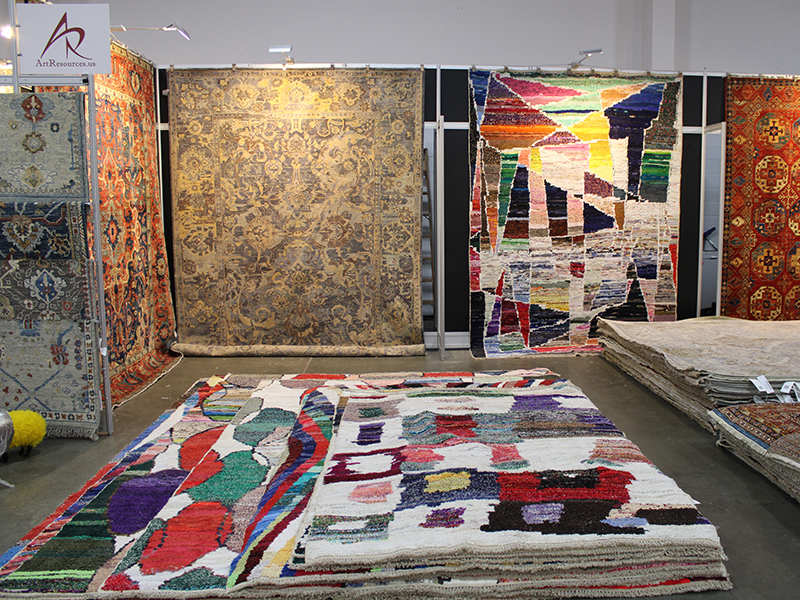 Industry powerhouse Art Resources is set to impress next month at The Rug Show
Rug trade insiders know that it's not a question of whether to attend the New York show OR the New Jersey show, but a question of which days to attend the New York show AND the New Jersey show. Both have a TON of great rugs and carpets to see (literally and figuratively!), and the exhibitors in each of the shows are sure to bring their freshest and most exciting product offerings for the Fall Markets, which is the unofficial kickoff of the area rug trade's selling season!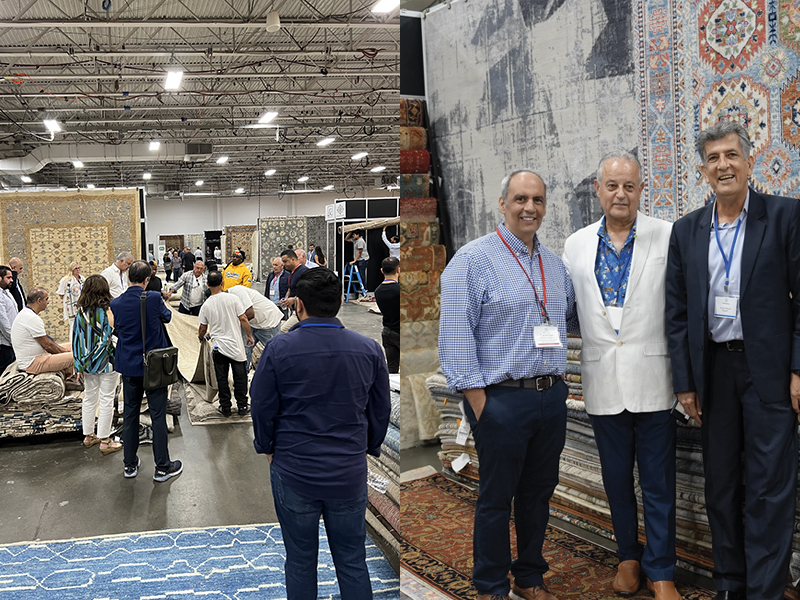 Three days of buying and networking await at TRS 2023. Shalom Brothers (right) has been a mainstay of The Rug Show since its inception.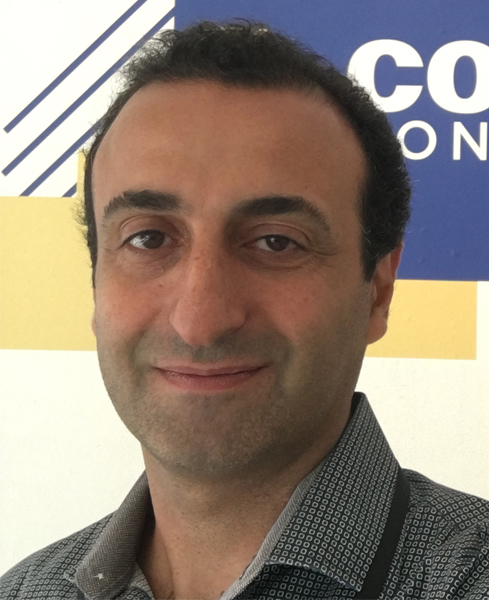 We hope to see you all at both shows, as I, myself, will certainly be in attendance, checking out what our friends and colleagues have on display, and how each one defines their exhibition space in as distinct and beautiful a way as possible. 
Plus, here's a bonus pro tip from us rug insiders here at Rug Insider Magazine; both shows are offering up Cocktail Receptions to their exhibitors and patrons this year, and the venues and menus for these Fall Market parties are worth the trip to see the shows, in and of themselves!
The Rug Show will be hosting a Gala Party, complete with a Persian Buffet, live entertainment, and a belly dancer (ooh la la!), and Cover Connect is hosting a cocktail party for registered attendees, who also receive a  chance to win a free rug from one of the exhibitors, as well as a free stay at the Dream Downtown Hotel! 
You can't go wrong with either of these two shows, which are sure to be amazing, and which both are giving attendees the additional bonuses of great food, drink, entertainment, and more!
Sign up to attend both must-attend Fall Market shows at thecoverconnect.com and therugshow.com.