Surya is announcing the opening of its new 5,000-square-foot, to-the-trade Chicago showroom, located in Suite 619 at the Design Center at The Merchandise Mart (theMART). Building on the success of its year-round showrooms in Atlanta and Dallas, Surya's Chicago showroom will offer designers a place to source and experience Surya products firsthand, and will serve as a platform for ongoing customer support, education and networking.
Aiming to bring Surya accessories closer to its customers and better serve the design community, the brand's Chicago showroom showcases a fashion-forward selection of its high-end accessories in a range of styles. Designers will be able to shop all of Surya's luxury rugs, lighting, textiles, wall décor, accents, bedding, and more. Scattered throughout the showroom, inspirational lifestyle vignettes display the latest décor trends with coordinating Surya accessories. Designers will also be able to collaborate with their clients in designated workspaces outfitted with state-of-the-art technology.
"Our path to continued success is built upon providing design leadership, a simplified buying experience and unsurpassed service to our customers," says Satya Tiwari, president of Surya. "A lot of thoughtful planning has gone into the concept for our Chicago showroom, including product assortment, layout, visual cues and other experiential components. We look forward to continuing to enhance the accessories buying experience for designers as we open additional regional showrooms in the next couple of years."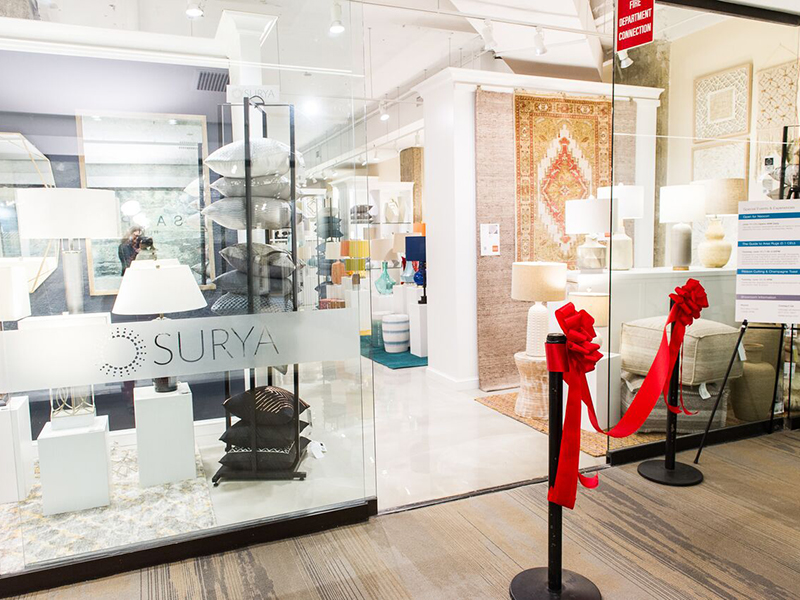 The showroom officially opened this week during Neocon with a ribbon cutting followed by an afternoon of events, including an educational CEU covering "A Guide to Area Rugs" and a champagne toast during the Design Center's "Toast to Fine Design" event at NeoCon 50.
theMART is the world's largest commercial building, wholesale design center at 4.2 million gross square feet, making it one of Chicago's premier international business locations. Home to 15 major trade and consumer shows each year, theMART welcomes an average of 25,000 people each business day, which equates approximately 10 million people per year.
Surya also has a seasonal showroom in High Point, N.C. and international showrooms in Toronto, Mexico City and New Delhi. For more information about Surya, visit surya.com.
Published verbatim courtesy of Surya.