Tamarian, one of the largest importers of Tibetan hand-knotted rugs in the US, continues expansions and improvements to their High Point showroom in order to offer a more in-depth and enhanced experience with their products and services. The upgraded location, at the Centers of High Point on Russell, offers attendees ease with a street-level entrance complete with parking or easy accessibility from the Green Line bus (Stop 12). The October 16th -20th Fall market will see the debut of a large patio space, the TERRACE @ TAMARIAN, that will serve as a "Market Oasis" for a relaxed respite from the indoor air of closed showrooms. Visitors will also enjoy the expanded rug racks for easy viewing of the many new colors, designs, and qualities that will debut at the show.
"We have a variety of new product we are excited to debut in High Point," said Ned Baker, Marketing Generalist at Tamarian. "New looks in Transitional styles in our all-wool Tibetan quality will be a strong category as well as some gorgeous texture-forward contemporary pieces ranging from retail-friendly Indian qualities to our fine Tibetan 150 knot wool & silks."
The timing of Tamarian's new showroom renovations comes at a time when Market visitors are still mindful of their safety and health while returning to travel and tradeshows. Leaving the more crowded floors of their previous space, Tamarian's showroom features more privacy from the crowds and a floorplan that allows for distancing and other safety measures to put clients at ease. The TERRACE @ TAMARIAN is a new outdoor patio space that offers even more freedom to relax and focus on the positive energy of market and do meaningful work without worry.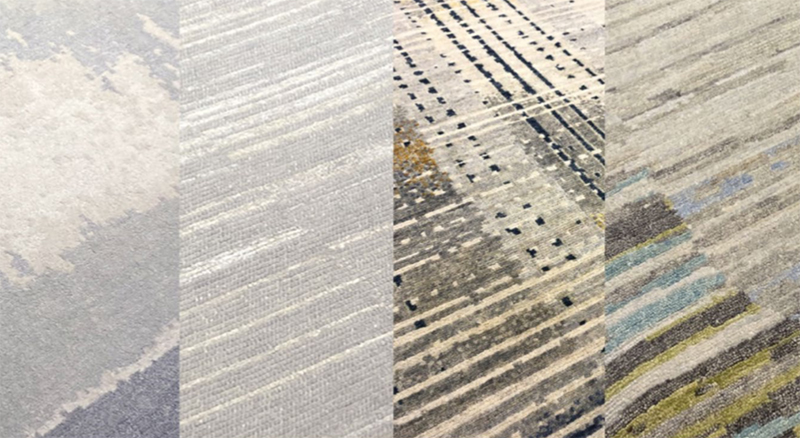 A few of the many NEW designs from Tamarian debuting at Fall Market (left to right) Water, Nasir, Rattan, and UHF.
Even after careful curation, Tamarian is excited to debut many new pieces at the October market in a wide range of qualities, styles, and colors making for a meaningful presentation for eager customers still busy with many projects needing a variety of rugs. Textured, hand-knotted looks in gorgeous wide-appealing palettes abound in the leading category of Tibetan qualities with new additions to the more retail-friendly Indian lines as well. Visitors will also enjoy dozens of sample swatches displaying other colorways, qualities, and up-and-coming product in development along with the support materials for customization of our line.
With over 20 years of experience offering Programmed stocked rugs as well as leading custom pieces for the most discriminating Interior Designers in the world, Tamarian is energized to write the next chapter in their story and bring the market forward for a positive and successful future!