Capel Rugs will debut major additions to the high-profile Genevieve Gorder and COCOCOZY licensed rug programs at the October 16 - 20 High Point Market, located in Market Square, space 112.
"Talented design partners like COCOCOZY and Genevieve infuse our offerings with unique inspirations," said Cameron Capel, president — sales and marketing for Capel Rugs. "Every year, we're excited to see what brilliant new ideas these creative licensees bring to the floor."
COCOCOZY will be introducing four collections, including the Cobblestone, Escape, Happy Day and Pulse collections. Genevieve Gorder will be showcasing seven collections, including the Arrows, Azteca, Criss-Cross, Deco, La Fete de Dot, Tropical Fete and Vintage Moroc collections.
One of America's favorite interior fashion experts, Genevieve Gorder is an award-winning designer and TV host, appearing regularly on Netflix, HGTV, Sony Channel Asia and The Design Network and as a regular contributor to the Rachael Ray show. In 2011, she teamed up with Capel Rugs to create the Genevieve Gorder rug line, a highly successful collection celebrating its 10th anniversary at the fall market.
"Genevieve consistently wows us with her knack for lovely, trend-setting designs," said Capel. "She finds beauty and inspiration in everyday life and reinterprets those elements to create one-of-a-kind designs that are playful and hip."

At the fall High Point Market, Gorder will add a wide mix of new designs. Introductions include four Wilton woven machine made groups in easy care 100% olefin:
Deco, three architecturally inspired patterns in gray, natural and multi colorways with a high, 20-millimeter pile. A timeless marriage of pattern and shape, Deco features simple recto-linear geometries combined with a lovely curve. A 5'x 8' rug may retail for under $349,
Arrows, a group of three vibrantly colored geometric patterns in gray, natural and multi colorways. Imperfectly perfect with a hand-drawn feel, Arrows fits beautifully into any room of the house. A 5' x 8' rug may retail for under $349.
La Fete de Dot, a high-pile design in a lively multi colorway. Suitable for kids or any room seeking a fun accent, La Fete de Dot features sprinkles of colorful dots dancing on a cream background. A 5' x 8' rug may retail for under $349.
Tropical Fete, a lush, nature-inspired design in three unique colorways of blue multi, red multi and sunlight multi.
In addition, the Genevieve Gorder for Capel Rugs line also will feature two new reversible woven dhurrie rug models in 100% PET fiber recycled from plastic water bottles. For use outdoors as well as indoors, these new collections include:
Azteca features simple and familiar shapes from ancient times. "It's a forever shape that we all know and love," says Gorder. Azteca is available in three sizes and two colorways — indigo/taupe and multi gray — with a 5' x 8' rug priced to retail under $499.
With a repetitive pattern that unravels into spontaneous moments, Vintage Moroc creates an artful dance of ancient shapes. Three sizes and five colorways are available — indigo on gray heather, green on gray heather and black on gray heather. A 5' x 8' rug may retail for under $499.

Criss-Cross, a hand tufted cut-and-loop, hi-lo construction made in India of 100% undyed wool in natural and graphite colorways, rounds out the latest additions to the Genevieve Gorder line. Inspired by ancient basket patterns, Criss Cross features simple geometric shapes that are familiar yet new. Three sizes are available, and a 5' x 8' rug may retail for under $499.

Also debuting an assortment of dynamic new designs for Capel Rugs this market is COCOCOZY. A Los Angeles-based entrepreneur, design blogger and home furnishings designer, COCOCOZY is one of Forbes Magazine's Top 30 Influencers and has been featured in numerous online and print publications, including House Beautiful, Architectural Digest, Lonny, Domino, Rue and My Domaine.
"Since teaming up with us in 2013, the COCOCOZY for Capel program has steadily grown to include a wide variety of styles, constructions and price points," Capel said. "COCOCOZY is a highly creative designer with a gift for creating fashion-forward rugs that are livable and affordable."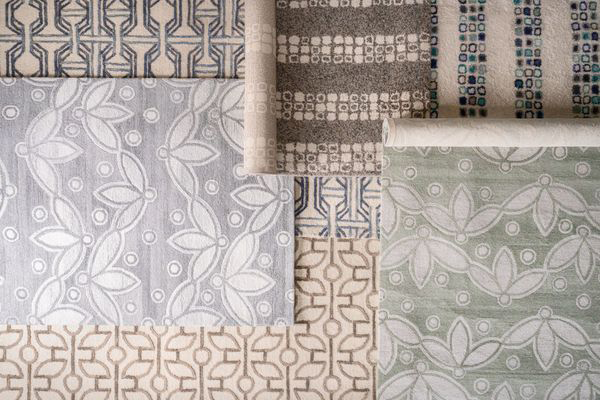 Clockwise from top left: Escape Collection in Denim; Cobblestone Collection in chestnut; Cobblestone Collection in azure; Happy Days Collection in meadow; Pulse Collection in greige; Happy Days Collection in shadow.
At market, COCOCOZY will add four transitional/contemporary collections to the Capel Rugs line. They include two hand tufted, 100% wool collections made in India: Escape, in denim and cloud colorways; and Pulse, in mineral, graphite and griege colorways. Both collections feature a high-low textured pile that uses a mix of loop and cut yarns in various thicknesses. The pile height is one-half inch. A 5'x 8' rug in either collection may retail for under $499.
In addition, COCOCOZY in debuting Happy Day, a tufted loop, machine made construction sourced from India featuring 100% recycled PET yarns with a fun, upbeat design in meadow, shadow and onyx colorways; Cobblestone, a machine made design in 100% olefin with a 20 millimeter-high pile, easy care performance in azure and chestnut colorways. A 5' x 8' Cobblestone rug may retail for under $349.
During market, Capel Rugs will host a 'Coffee and Cocktails with COCO' event on Sunday, October 17 from 10 a.m. to 12 p.m., where the designer will be in the showroom socializing with retailers and designers.
In addition to new licensed rugs, Capel Rugs is also introducing a transitionally styled collection this market called Freeport. The Freeport collection is inspired by the serene harbor village and picturesque views of Casco Bay, Maine.
Hand loomed in India of 100% wool, Freeport features a reversible construction that is available in six colorways — sage, gray, cloud, navy, vanilla and beige. The rugs sport a slight Abrash effect on the solid tones along with a ribbed pattern. A wide range of sizes is available, and a 5' x 8' foot rug may retail for under $449.
Also new for the Capel Rugs line this market are two new designs being added to the Metropolis collection — Braga in slate and Madeira in a multi. Metropolis is a Wilton woven collection of transitional and traditional designs made of 100% New Zealand wool.

capelrugs.com