When we talk about area rugs, whether new reproduction rugs or the antique originals on which they are based, one of the most common ways of categorizing them is by their level of fineness.

Specifically, the fineness we refer to is the fineness of weave density, with the finest rugs being those with the tightest weave density. In the West, we often express this level of weave density in terms of KPSI, or knots per square inch. In the East, the more traditional expression is in terms of RAJ, or knots per 7 centimeters. The higher the KPSI or RAJ, the finer the rug.
Fineness, though, is not always as simple as a mathematical calculation of knot density. The fineness of a rug is also often understood in other ways, such as the density and scale of the rug's surface design, the level of clean articulation of the rug's stylistic elements, the suppleness of the rug's wool, and more.
In some ways, the fineness of a rug can sometimes be understood as the rug's level of artistry and uniqueness, even more so than the technical superiority of its weave. A rug that can take a standard design motif, such as the omnipresent Herati design, and execute it in a manner that is both technically precise and artistically exhilarating takes the word fine and adds a further depth of meaning to it.
Enter the antique Persian Tabriz rug. Antique Persian Tabriz carpets, particularly those from the master weaver, Hadji Jalili, are renowned throughout the world as being among the finest rugs in the world, both in terms of their remarkable tightness of weave, as well as in their dazzling levels of beauty, subtlety, and artistry.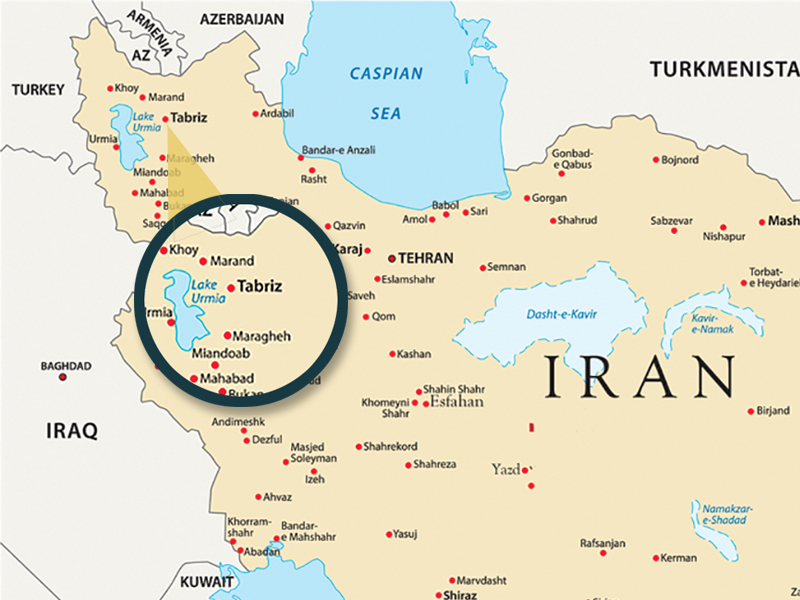 As with other antique Persian carpets, Tabriz rugs derive their name from the geographical area in which they were woven. Tabriz is a city in northwest Persia, in the area between Persia, Azerbaijan, Armenia, and Turkey.
The city of Tabriz has long been a center for master rug weavers, with a Golden Age of rug weaving having taken place from the 12th to 16th centuries. The Tabriz carpets of this era are some of the most prized rugs in the history of carpet weaving, with an aesthetic that mimicked the popular miniature wood carvings, which were among the greatest artistic works in Persian history.
One of the most prominent examples of these Golden Age Tabriz rugs is the famed Ardabil Carpet (shown opposite, right), a master weaving from 1540, which generations of rug enthusiasts have flocked to see at its home in London's Victoria & Albert Museum.
The Tabriz carpet evolved in style, and reached new heights in the 19th century, under such master weavers as Sheikh Safi, Kurban Dai, Faradji, and most prominently, Hadji Jalili. Of these, Hadji Jalili is the master weaver whose works are perhaps best known to modern-day rug buyers, as they have specific characteristics that have come to define what the finest antique Tabriz rugs of the past 150 years look like.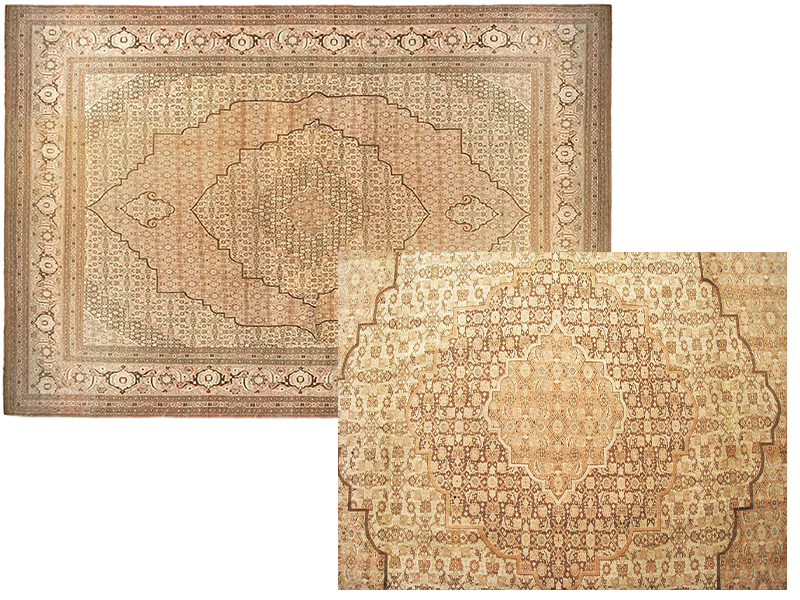 Tabriz Hadji Jalili Rug with center detail from Persian Gallery New York
While it may not be from the Golden Age of the 12th–16th centuries, the Tabriz Hadji Jalili carpets of the late 1800s have become the Gold Standard for what defines a fine antique rug.
The Tabriz Hadji Jalili rug checks off all the boxes of what makes a fine rug fine. The weave density is outrageously tight, with some Hadji Jalili rugs being 70 – 80 RAJ (i.e., 1 to 1.3 million knots per square meter). The scale of design is impossibly small and intricate, with countless rows of repeating floral or Herati designs being immaculately rendered with painstaking precision. The artistry is out of this world, as the repeating design motifs are articulated with a combination of both symmetry and playfulness, as rows of designs elements overlap each other to create an illusion of multiple dimensions. The colors are subtle and timeless, with soft earth tones predominating, in a way that appeals both to Eastern traditions and Western sensibilities. The pile is short, and the wool is so soft and supple, you would think you are walking on silk.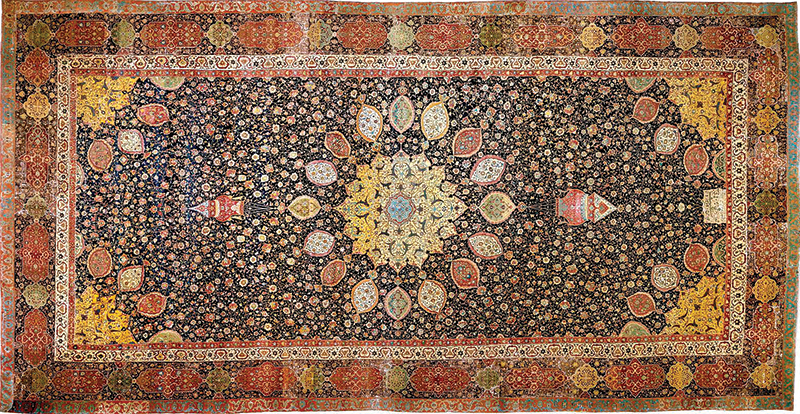 For many, the antique Tabriz Hadji Jalili carpet is, simply put, the epitome of what a perfect antique rug should be. It redefines fineness, by pairing artistry with symmetry, a tight weave with supple wool, complex small-scale designs with subtle color tones, and all in a seemingly effortless combination that belies that thousands of hours of hand-knotting required for each of these masterful floor coverings.
The Tabriz carpets of the early 20th century, while not quite as fine or as supple as the master weavings of Hadji Jalili, still maintain many of the characteristics of the earlier style, while sometimes venturing into more vibrant color combinations, and additional stylistic motifs, such as Hunting designs, animal designs, Tree of Life designs, paisley "mother and child" designs, and more.
We asked some members of the antique rug trade their thoughts about antique Tabriz and Hadji Jalili carpets, and how they stack up against the other antique rugs in their collections. Here's what they said.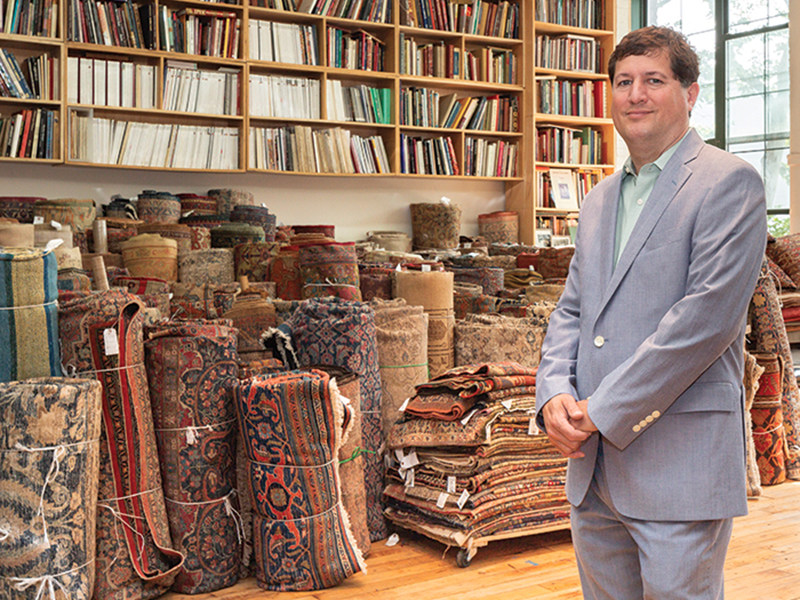 Darius Nemati | Nemati Collection
The Nemati Collection has been a prominent name in the New York rug trade since its founding in 1963 by Parviz Nemati, a veteran rug connoisseur and collector. Parviz Nemati literally wrote the book on antique rugs, having penned such titles as The Splendor of Antique Rugs and Tapestries, and Rugs as an Investment
Currently led by Parviz Nemati's son, Darius Nemati, the company is known for providing a high level of service and expertise to its clients, with an emphasis on care and quality of both their client relationships and the antique carpets they curate.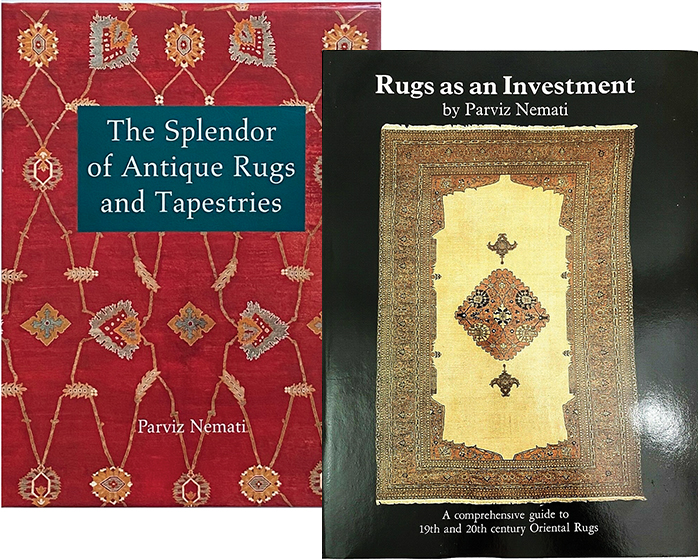 Regarding antique Tabriz rugs, Darius Nemati says that he always tells his clients that in Tabriz, one finds the good, the better, and the best of Persian carpets, with the vintage and antique rugs from that region running the gamut from the commercial to the sublime.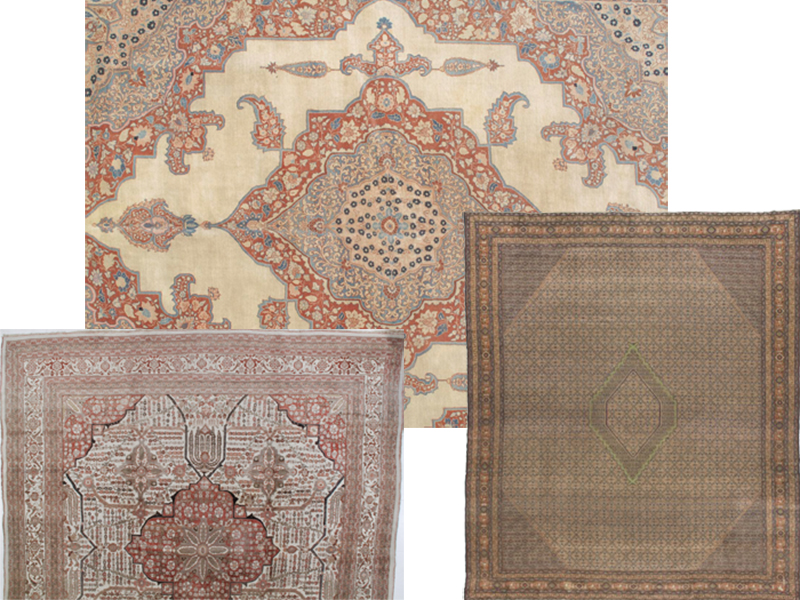 Tabriz rugs from the Nemati Collection
When asked what type of Tabriz rugs his clients respond to most, Darius Nemati says that he tends to showcase the better ones from the late 19th to early 20th centuries. He also places a special emphasis on the ones that have that certain special "something" that makes them truly unique.
---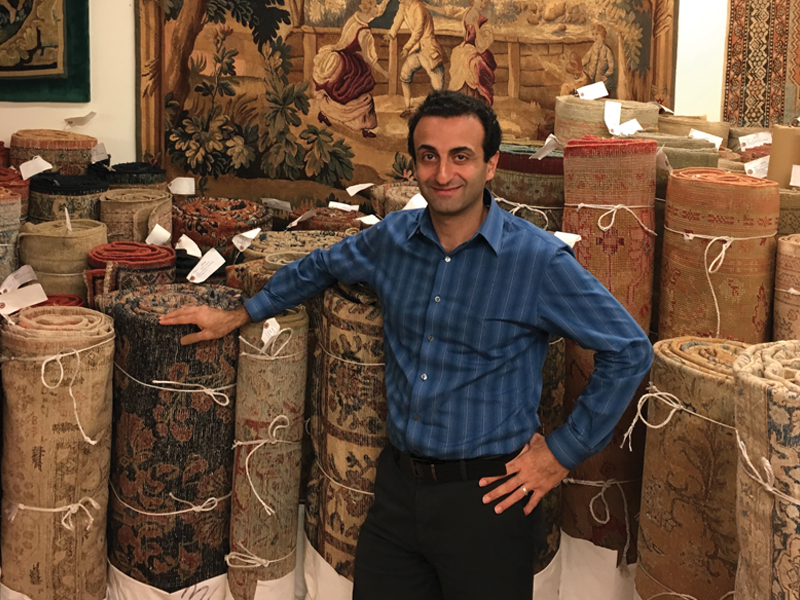 Rodney Hakim | Persian Gallery New York
Persian Gallery New York (PGNY) has been a mainstay of the area rug trade in New York for decades, with its 50th anniversary coming up this fall. Rodney Hakim, son of company co-founder, the late Farokh Hakim, is celebrating his own anniversary of 25 years in the rug business.
In his quarter-century as a purveyor of antique carpets, Rodney has always been drawn to Tabriz Hadji Jalili rugs, considering them the crème de la crème of antique rugs. It's the Persian rug style that most deftly combines everything one could want in an antique carpet, from knot density to softness of wool, from small scale design to bigger picture artistry, from earth tone colors to formal beauty; it has it all.
Rodney's clients agree, with the antique Tabriz Hadji Jalili carpet being the go-to choice when seeking a fine carpet for a formal space. Even the name Hadji Jalili itself signifies something special, almost sacred as if invoking something magical from a long-lost era that can only be obtained in these mystical and majestic carpets.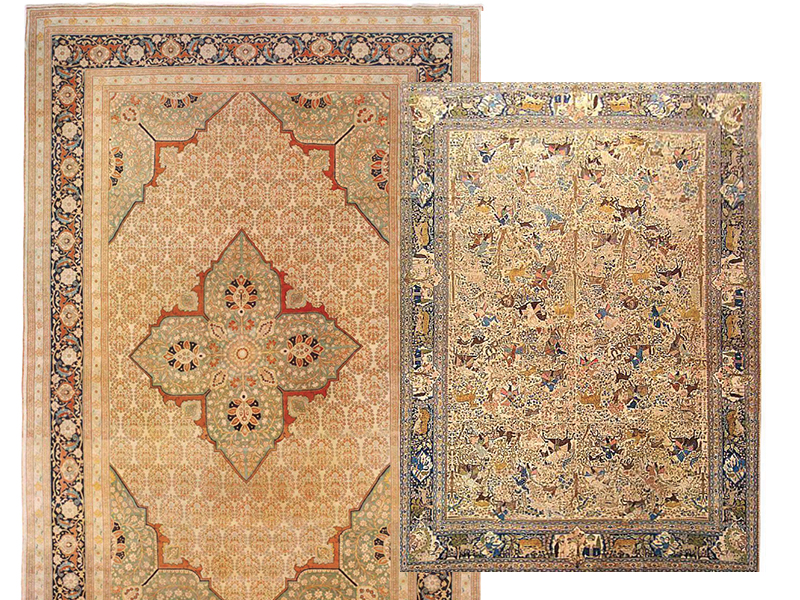 Hadji Jalili (left) and Tabriz Hunting rugs from Persian Gallery New York 
In terms of which specific Tabriz rugs styles his clients request the most, it's a mix, with some wanting the most sophisticated and complex designs, some wanting something simpler and more understated, and others wanting something radically different. All of these can be found in the Tabriz family, including incredibly immaculate Hadji Jalili designs, and bold and endlessly entertaining Hunting design Tabriz pieces.
With any of these Tabriz rugs, though, there are even more levels of fineness that push this style of rug over the top, according to Hakim. One is that despite their soft wool and incredibly tight weave, the Tabriz rugs stand up very well to wear, and can often last as long as denser Bidjar rugs.
Another—and perhaps most important—level is how fine it makes your home look when you lay a great antique Tabriz rug down in it. It makes everything else around it look good, too. And ultimately, that might be as fine a definition of fineness as anything else.
---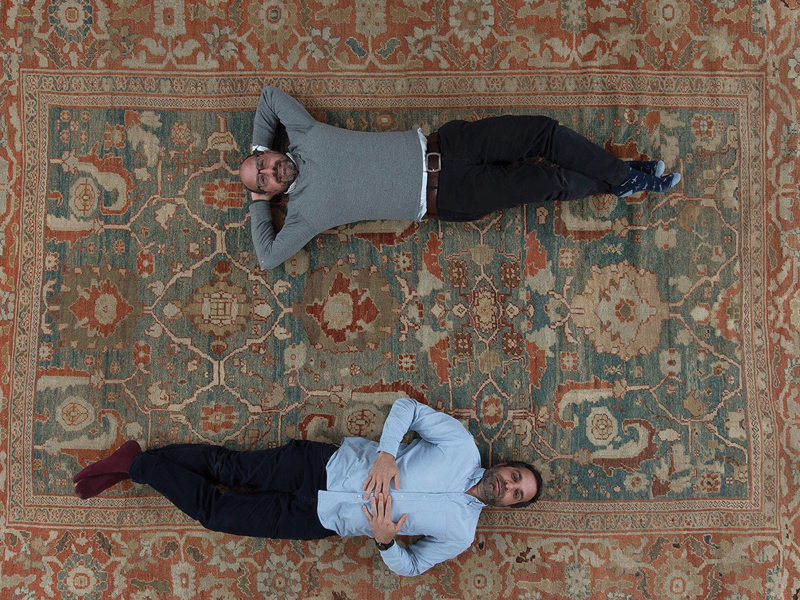 Ilan & Rodney Zabihi | J&D Oriental Rugs
Ilan Zabihi (shown top in the image above), of J&D Oriental Rugs, knows a thing or two about antique rugs, as he and his brother Rodney are third-generation rug purveyors, who grew up around the oriental rug business with their father, Daniel, and their late grandfather, Joseph. The young duo is helping to bring the antique rug business into the digital era, with an appealing website, eCommerce outlets, and their immensely popular social media feeds.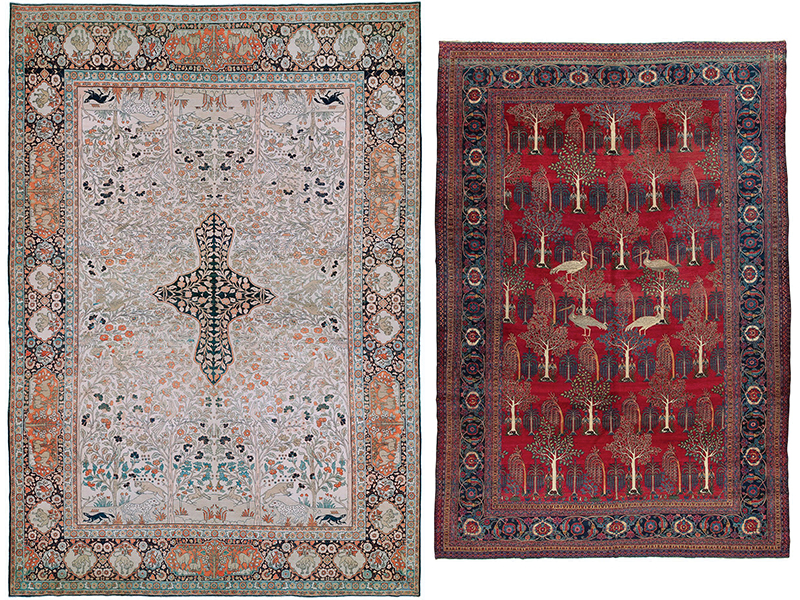 Tabriz rugs from J&D Oriental Rugs
Regarding antique Tabriz rugs, Ilan Zabihi suggests that this style is frequently requested by clients looking for a rug for a room with a formal setting—primarily in room sizes such as 10' x 14'.
When asked what specific styles of Tabriz rugs his clients are asking for, Ilan says that people like the prototypical Tabriz rugs with the traditional Herati motifs, albeit the allover designs without central medallions or corner spandrels. He adds that his clients also like the Tabriz rugs that have something different about them, such as animal motifs, or even pictorial elements.