Retailer + Designer Traffic Poised for In-Person Pickup, Post-Pandemic
The home fashions industry has reconvened this month—first at the Atlanta Market July 12-18, and then again at the Las Vegas Market July 24-28—to shop the latest and greatest in area rugs and much more.
The area rug category represents "a key asset" and an integral component to the markets' whole home resources, noted Scott Eckman, executive vice president and chief revenue officer of International Market Centers (IMC), the organizer of the Atlanta and Las Vegas markets.
"The area rug category represents "a key asset" and an integral component to the markets' whole home resources." Scott Eckman, IMC
As such, area rugs are strategically positioned throughout Atlanta Market's Home Décor Collection "to improve accessibility for buyers," he continued.
Based at the AmericasMart, the Atlanta Market includes almost 30 rug resources showcased in the eight-floor home décor showroom collection as well as in the Home Accents & Home Furnishings temporary exhibits—all in Building 1.
This season welcomes two new rug showrooms: Aleph Home in space 10-A-5 and Spura Home in space 10-A-7; plus one rug showroom expansion—Devgiri Exports in space 9-A-23.
"We are excited to grow these important resources with new brands and expanded presentations as we welcome the design and retail community to Atlanta this summer," Eckman said.
Similarly at Las Vegas Market, housed in the World Market Center, area rugs are "a major component of our complete offerings," Eckman said.
The 40+ on-site area rug resources are distributed across the furniture and home décor permanent showrooms occupying 19 floors in Buildings A, B and C as well as at the two temporary exhibit locations—B2: Home Furnishings Temporaries and Gift and Home Temporaries in the Expo. 
One new rug showroom is making its market debut this season—Orlena Home. Additionally, there is one rug showroom expansion—Central Oriental; and two area rug showroom relocations—Art Carpet/Art Home and Elite Home Fashions.
"Rug brands are tapping Las Vegas Market's power to reach influential west coast designers and retailers with this summer's resource expansion accelerating that growth trajectory," he added.
Summer markets are typically quieter than their more bustling winter counterparts in January. But this time around, area rug exhibitors are optimistic customer presence will be stronger than usual, fueled by two segments of shoppers:
Mass merchants seeking affordably priced machine-mades in durable and easy-care constructions;
Designers and interior decorators on the lookout for upscale handmade styles and customizable programs to serve their own clients' needs.
As such, national big-box retail chains are poised for a comeback this season after dodging recent markets for fear of Covid, said Kaleen Rugs' chief operating officer Monty Rathi.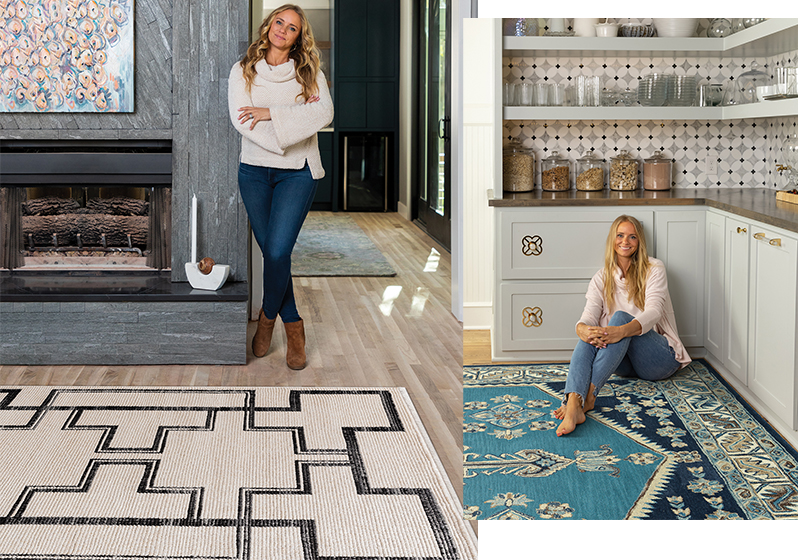 Kaleen Rugs, Tamara Day Collection
"It has been over two years that [national big-box retail] buyers have not attended the shows," he said, "and now they are very excited to be traveling back again, meeting in person with vendors, touching and feeling products."
Kalaty echoed those sentiments. The multi-generation, family-operated rug company forecasts "a good turnout of customers at Las Vegas, no doubt, due in part to customers finally feeling comfortable again with face-to-face markets," said company spokesman Farshad Kalaty.
"No photo or video can compare to seeing something in person." FARSHAD KALATY, KALATY
Customers' return to in-person shopping adds relevance and importance to this month's markets, he added.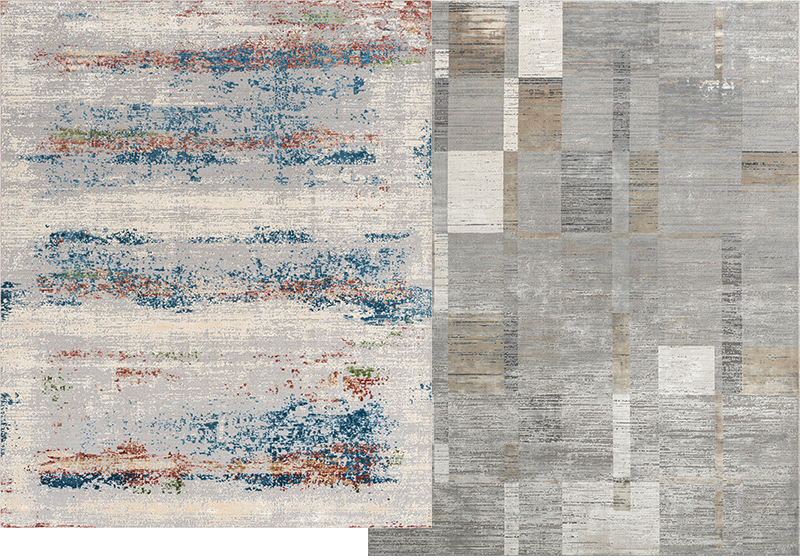 Kalaty, Kamaria (left) and Celeste Collections
"Customers are eager to actually see what's new and fresh and to be able to actually touch products at markets again," Kalaty went on. "No photo or video can compare to seeing something in person."
Harounian Rugs international (HRI) points to the evidence—progressively improving buyer attendance trends over the past three market seasons (Winter 2022, Summer 2021 and Winter 2021)—to justify its "very good traffic flow" expectations for Las Vegas Market.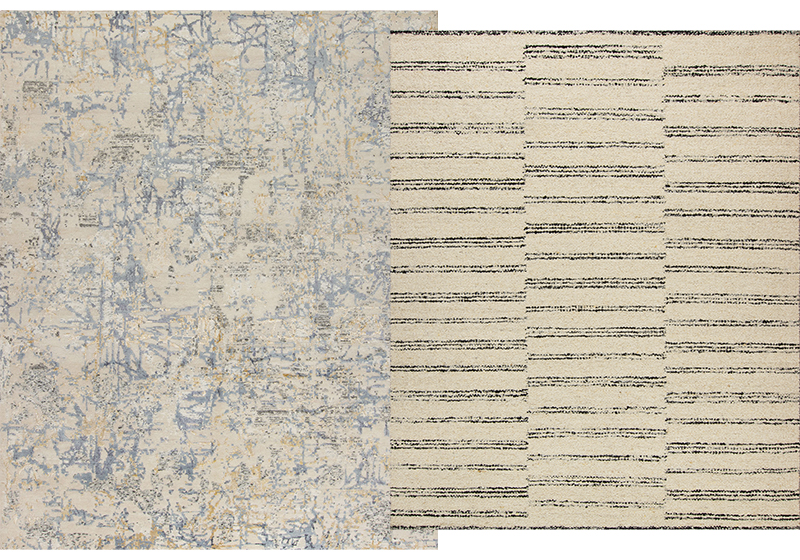 HRI, Glaze in blue (left) and Arizona in black and white
"Our ratio of sales to showroom visits continues to be high, so our expectations for…orders from specialty retailers, furniture stores and design firm accounts are higher than in the past two years," explained Greg Jordt, executive vice president, sales and marketing.
Similarly, Oriental Weavers president Jonathan Witt said the "much better than expected" High Point Market in April buoys his hopes for business this summer.
"At this point it appears that retail buyer traffic will be back on par with pre-pandemic summer shows." JONATHAN WITT, ORIENTAL WEAVERS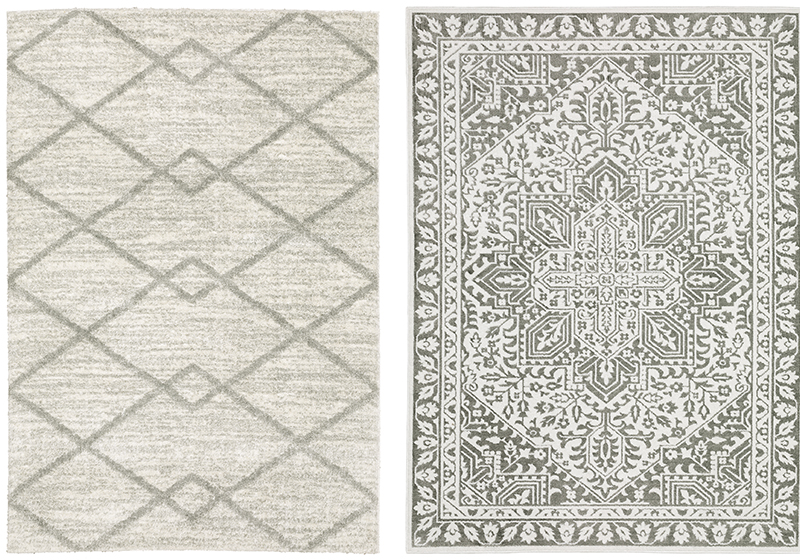 Oriental Weavers, Verona (left) and Montecito - Medallion
"We feel positive about the Las Vegas Market," he said. "At this point it appears that retail buyer traffic will be back on par with pre-pandemic summer shows."
With interior design business "in full swing" as the pandemic wanes, Feizy expects the traffic momentum to keep up at Las Vegas Market despite macro-economic impacts in recent months from inflation and gas price hikes.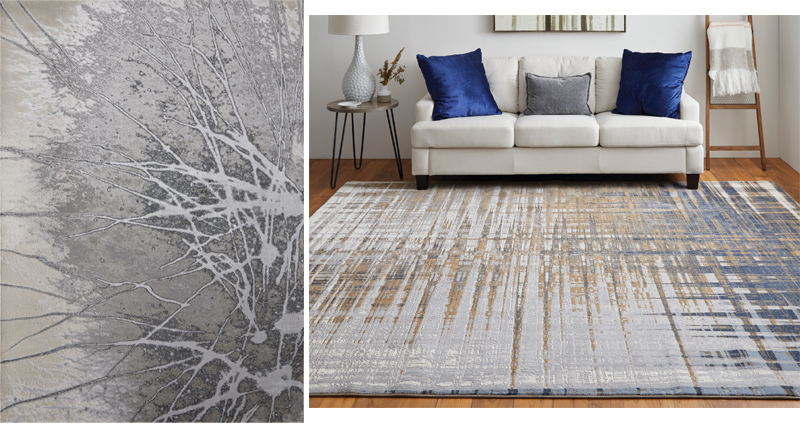 Feizy, machine-made collections Astra and Clio (right)
"We are still seeing consumers looking for in-stock items for their home furnishing needs," said Mike Riley, president. "We have a number of sharply priced machine-made introductions while focused on the higher-end developments for our interior design, custom and one-of-a-kind programs catering to our customers less impacted by inflationary pressures."
As Riley suggested, the designers and interior decorators community has rapidly become one of the area rug category's fastest growing customer segments.
"Rugs are essential in great interior design, and they are an important vertical in our home furnishings resources," cited Bill Furlong, CEO of JuniperMarket—the wholesale marketplace for sourcing gift, home décor and lifestyle products, powered by International IMC.
Aside from Feizy, JuniperMarket's other brand partners in rugs also include Bashian, Berbers Market, Exquisite Rugs, Kalaty, Nourison, Momeni, Orian Rugs, Rug Addiction, United Weavers of America and Vianha Inc.
"We are consistently adding new rug resources to the platform as top designers and retailers choose JuniperMarket to source for projects and refresh inventory," Furlong added.
Nourison's Prism in Emerald
On that same vein, Nourison is seeing an uptick in demand for custom orders and larger-size rugs, "which we expect to continue, as well as demand for low to mid-level collections for e-commerce."
To serve both sides of the pricing spectrum, the company is introducing its Reserve Custom Studio program of handmade rugs for higher-end customers, including designers and decorators, and also showcasing two new machine-made polyester collections—Sahar and Lynx—to satisfy mass retailers' needs.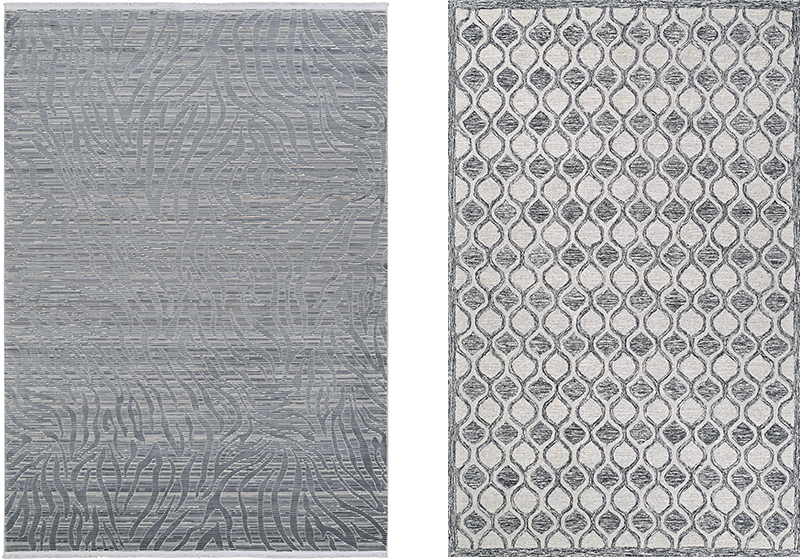 Couristan, Siena (left) and Silverthorn Collections
Couristan's concentration this season is somewhere in between—100 percent wool, hand-crafted rugs with lots of texture and contemporary two-tone colorways.
"Think Hygge looks in mid-promotional price points," said Larry Mahurter, vice president of marketing and advertising. 
Also straddling is Kalaty Rug Corp., which continues to "focus on our company's long heritage of high-end, hand-knotted area rugs in all style genres, weaves, textures and popular colorways" while at the same time adding new collections to its K-Two series of promotionally-priced collections of power-loomed, hand-loomed, hand-tufted and hand-knotted styles.
"Despite the disruptions over the past two years, we will have an impressive array of new designs at Las Vegas, which represents one of the largest new product presentations in our company's history," he said.
"Our customer base is seeking new supply chain avenues and we are here to make that happen." CARISSA NEAR, UNIQUE LOOM
Unique Loom is coming to market stocked up with "fresh new looks, colors and designs" to fill gaps in the marketplace created by pandemic-prompted delays.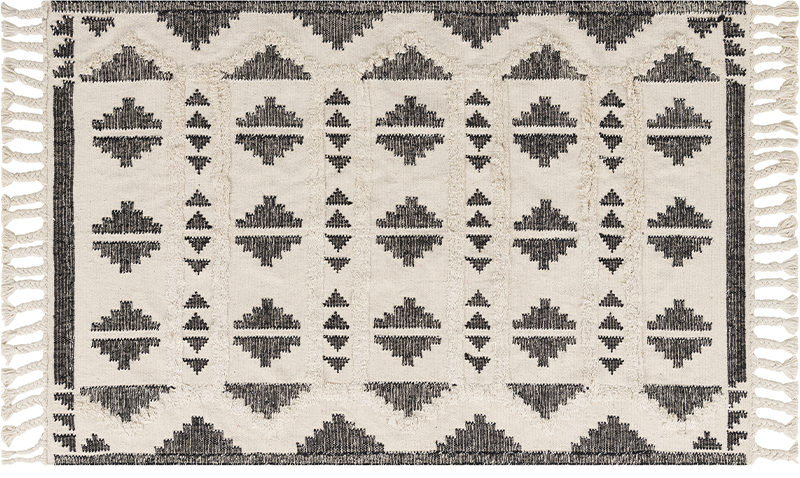 Unique Loom, Mesa
"We're expecting swift paced market traffic," said Carissa Near, account manager. "Our customer base is seeking new supply chain avenues and we are here to make that happen."
www.atlantamarket.com
www.lasvegasmarket.com